Was Richard Kirkland really risking his life for an enemy?

"It's real easy to think that you would risk your life for a friend, but to risk your life for an enemy is something that is very rare indeed. And that, to me, is the story of Richard Kirkland."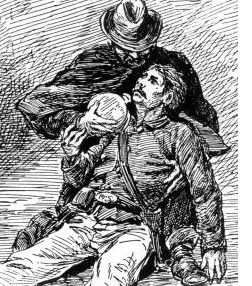 I spoke those words as the conclusion to my segment in the documentary "The Angel of Marye's Heights." Since then, I've quoted it in speeches, panel discussions and radio interviews.
This is the essence of Richard Kirkland's remarkable act and it has left an indelible impression on me. Over the last few months our team has screened this film in theaters, museums and universities. No matter what venue, the message that seems to be resonating with people is "be kind to your enemy."
This is a difficult, if not impossible virtue to grasp. It does become more palatable however, if we re-examine the use of the term "enemy." Were these men truly enemies and does Kirkland's reaction to the suffering of his foes nullify the very meaning of the word when used in the context of the War Between the States? After all, just days before the onset of war, these men were citizens under the same flag, with the same God, and shared history.
It is impossible not to feel sympathy for the suffering that existed between both armies on the field at Fredericksburg. Far too often we have focused on the battle strictly in a political or tactical sense. We simply recognize both armies separately, as bitter rivals hell-bent on each other's destruction. This is true to a point, but we cannot forget that these adversaries shared a collective existence together as countrymen, and were only enemies under their own self-inflicted circumstances.
In other words, they brought it on themselves by pursuing a military action that literally pitted brother against brother. This is what makes a "civil war" even more tragic than a traditional conflict between nations. It is also what makes the eleven doomed assaults at the stone wall even more absurd, and Richard Kirkland's act of mercy comprehensible.
In our film storyteller Megan Hicks notes the conflicting nature of Kirkland's actions as he was both a killer and a kind, compassionate man. During the engagement, Kirkland shot at the very men who he would later administer aide to. This conflicting-conscience goes both ways. In the same light, could the opposing soldiers on the battlefield simultaneously be Kirkland's enemy and his countryman?
It opens up a whole new dynamic if you accept that there is no black and white in this story. This paradigm was true for the entire conflict from the first shot at Fort Sumter to the surrender at Appomattox. The line between right and wrong, friend and foe were blurred beyond comparison. Perhaps that is why the Civil War is still furiously debated to this very day.
As we prepare to acknowledge the Civil War Sesquicentennial in 2011, the practice of self-inflicted separation remains. It seems that in today's society the word enemy is thrown around casually as the "argument itself" has become more important than the subject being argued over. Frankly, I can't recall any other time in my life that our country's division has been so rampant and spiteful.
We live in a nation of blue and red states and left and right politics. Each night we gather around the television to hear talk show hosts claim that the other's opposing viewpoints have doomed us all. Americans love to fight amongst ourselves and we are nurturing a culture of enemies. Not much has changed in 150 years.
Perhaps we could learn a lesson from Richard Kirkland and rethink what it truly means to be an "enemy." Maybe then we can learn to get along.
FEEDBACK: What is your take on this subject? Email your thoughts and I will share them in a future follow-up post.
Posted by ny5/pinstripepress at 11:25 AM EDT
Updated: Wednesday, 13 October 2010 9:23 AM EDT
Permalink
|
Share This Post