What a weekend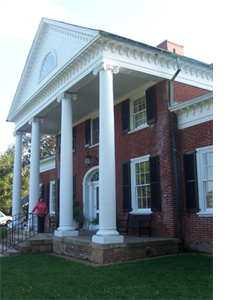 Saturday's screening at the University of Mary Washington could not have gone better. This weekend was the college's annual "Family Weekend" when parents and students are treated to a variety of special events celebrating the school's culture and surrounding history.
Our invitation came courtesy of Abbie McGhee, Coordinator of Community Events and Ceremonies. The screening was held at the newly refurbished Lee Hall in one of the school's state-of-the-art media rooms. The campus staff and student attendants that assisted us were outstanding and the audience was very receptive to our presentation. I was joined by cast members Megan Hicks, John Cummings, and later, Don Pfanz. The audience had some excellent questions for John and me during the casual Q&A.
During the film's introduction, I gave the audience some background on our past speeches and panel discussions. I recalled our previous weekend at Liberty University where we had held a forum discussing the preservation and education of history. I then informed the audience that we would be doing nothing of the like for them. The reason I added, was the unique opportunity that this particular group had. That opportunity was an exclusive invite to tour the nearby historical landmark Brompton. This magnificent estate sits atop Marye's Heights and bore witness to the Battle of Fredericksburg. The story of Richard Kirkland literally took place in the shadow of this manor, so the tour fit perfectly with our story.
Completely preserved, Brompton is the residence of the acting president of the university and is not open to the public. In over 10 years of giving tours at the sunken road, I knew of only two people who had ever been inside the mansion. As this was "Family Weekend," the newly appointed (and tremendously popular) UMW President Richard V. Hurley, graciously opened his home to visitors. Following the screening we headed over to Brompton and were given free reign to walk the house and grounds. During the tour, members of the staff took us out back to meet the president and his wife along with the college's chief of staff Martin A. Wilder Jr. Apparently they had heard some great reviews of the film and after discussing the origins of the project, President Hurley proposed the idea of holding a private screening. Of course I jumped at the opportunity and told the president that we would be honored to oblige him.
The biggest satisfaction of the weekend came in the private discussions that I had with parents and students who shared a great love of history. Several of them had specifically chosen UMW, due to it's close proximity to historical sites and hallowed grounds. All of them expressed their gratitude for our film and are anxiously awaiting the release of our DVD.
Below: A rare view of the Kirkland Monument (in yellow highlight) from the front porch of Brompton.