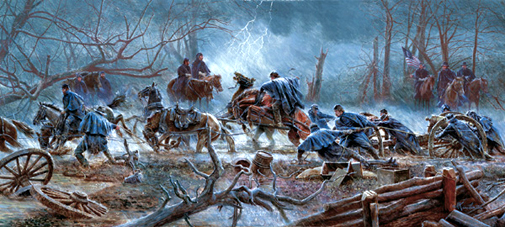 Artist Mort Künstler's painting 'The Mud March' depicts the Union army bogging down in Stafford County on January 21, 1863, during a fierce winter storm. ORDER HERE
SPACER
Mort Künstler: An American Master
by Michael Aubrecht, The Free Lance-Star: TOWN & COUNTY Feature
Date published: 6/2/07 Section: CIVIL WAR
Also online at: Popular Civil War artist no stranger to Fredericksburg
"What a remarkable people they were--the generation of Americans that faced the Civil War."
This quote comes from "An American Palette--The Paintings of Mort Künstler" and was offered by the artist himself when asked to comment on one of his paintings that depicted Confederate Gen. Thomas J. "Stonewall" Jackson holding a sunrise service.
"Remarkable" is certainly a fitting adjective to describe the courage, strength and conviction of America during the Civil War. It is also a fitting term to describe the 75-year-old painter himself.
Noted Civil War scholar and Jackson biographer Dr. James I. Robertson once said of Künstler: "No one has better captured the sights, the feelings, the encompassing drama that formed the conflict of the 1860s. Many gifted wielders of the brush have given us scores of Civil War illustrations, but only Künstler has carried that skill to a level of perfection."
The artist, whose studio, Künstler Enterprises Ltd. is in Oyster Bay, N.Y., has painted numerous pieces over the years portraying key events in the history of Fredericksburg. These include "Lee at Fredericksburg"; "The Scouts of Fredericksburg"; "Angel of Marye's Heights"; and "Remember Me."
One of his latest releases is "Tender is the Heart," which depicts a particularly special event that was witnessed by a high-ranking group of Confederate officers gathering at Mayhurst in Orange County. Most prominent among the attendees was Gen. Robert E. Lee, commander of the Confederate Army of Northern Virginia, as well as one of his three corps commanders, A.P. Hill.
The purpose of this intimate meeting between's Lee's lieutenants was not to plan wartime strategy but to celebrate the baptism of an infant. The child's name was Lucy Lee Hill, whom A.P. and his wife, Kitty, had named in honor of her father's beloved commander, and who had graciously agreed to be the child's godfather.
According to Fredericksburg Historical Prints' Web site, Künstler's painting are among the most highly sought-after historical prints on the market.
The artist recalled his affections for the town saying "Every time that I visit Fredericksburg I marvel at the beauty of the city. It has always provided me with a wonderful backdrop and I certainly appreciate its rich history. I don't get back there as often as I like, but every visit usually results in a new idea for a painting."
The city of Fredericksburg has certainly appreciated the artist's attention in turn, as former Mayor H. William Greenup presented an official proclamation along with the Key to the City to Künstler on Oct. 24, 1997. Künstler's newest book, "The Civil War Paintings of Mort Künstler: Fredericksburg to Gettysburg" features several scenes that will be familiar to local residents.
Perhaps one of the reasons that Künstler is so good at capturing the spirit of this country is due to the fact that he witnessed so much of it firsthand. As a member of the "Greatest Generation," Künstler grew up in an era that experienced both the best and the worst of times in the annals of U.S. history.
For a boy raised in Brooklyn, the odds of becoming a famous artist were not in his favor, even one whose last name is actually defined in Cassell's German-English Dictionary as meaning "artist."
After all, painting was not necessarily the most practical of professions during the 1930s, as most people had little extra time or money for luxuries such as art. However, when a 2-year old child shows an amazing aptitude for drawing, the scales tend to tip in his direction.
Young Künstler's talent was indeed a rare and wonderful gift that was immediately recognized and cultivated by his parents. Künstler's father was an amateur artist himself; his mother helped to encourage her young prodigy by enrolling him in weekend classes at the Brooklyn Museum and arranging still-life settings in their home.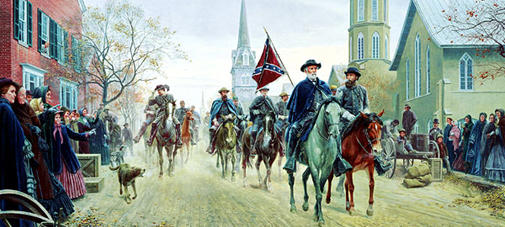 'Lee at Fredericksburg' depicts General Robert E. Lee and General James Longstreet riding downtown along Princess Anne Street on November 20, 1862. ORDER HERE
SPACER

Künstler's father inspired his son to develop his physique and the boy with an early tendency for sickness eventually rose to become an extremely gifted competitor who excelled in sports. Many years later, he was enshrined in the Brooklyn College Sports Hall of Fame, proving that it is possible to be both artistic and athletic at the same time.

Following his graduation from high school at the age of 15, Künstler attended Brooklyn College and was later awarded a basketball scholarship to UCLA. He then moved on to the Pratt Institute in New York City, where he focused on pursuing a career as a professional illustrator.

It was while attending Pratt that Künstler was able to hone the discipline and techniques that serve him well today. It was also where he received his first commission, illustrating a sports book on the game of football. Upon the completion of his studies, Künstler took a humbling, menial studio job that required him to clean palettes, but allowed him to build a portfolio.

After tackling this "apprenticeship" period with the same tenacity that he had shown on the football field, Künstler entered the freelance world of illustration, doing book covers at $100 apiece. Eventually, he was hired to illustrate historically based articles in the prestigious National Geographic magazine.

In his first year of freelance work, Künstler earned a total of $3,000, which was an impressive sum for a starving artist in the 1950s. This, however, was only the beginning of what would become a stellar career.

In the 1970s, Künstler began to transition from a commercial artist to a fine-arts painter whose work was beginning to get noticed by serious art collectors. Originally the genre that seemed to generate the most interest was that of Western subjects, but following his one-man show at the prestigious Hammer Galleries, Künstler's aptitude for portraying historical subjects took precedence over all other subject matter.

By far the most significant period in the career of Künstler came in 1982 when he was hired to do a painting for the CBS miniseries "The Blue and the Gray." The piece was a depiction of the "High Water Mark," which is the area around a single grove of trees that was the primary destination for the Confederate forces who were devastated during the catastrophic "Pickett's Charge" at Gettysburg. To this day, it is still considered the best rendering ever painted of the event.

It was while conducting research on the battle that Künstler became infatuated with the Civil War, which has since become the main focus of his work.

In an exclusive phone interview, Künstler described how his career has evolved, from illustrations for classic action-adventure novels, to the most highly coveted Civil War paintings of today. "First and foremost, I would have to say that I am a problem solver," he said. "It was always my job to analyze a problem (what the picture needed) and then figure out how to paint it in a way that told the story."

"I always like to tell people that I like to paint pictures for Debbie and Carmen. Debbie is, of course, my wife and Carmen is a historian."

"One day we were having lunch together and both of them were commenting on how well one of my early Civil War pieces was selling. They convinced me to do more of these events, so I began to look for subjects that had never been done before. My goal, from then on, was to consciously set out to paint moments during this romantically tragic period in American history, but with more of a 'slice-of-life' approach."

This "slice-of-life" approach is what sets Künstler apart from his contemporaries. By not exclusively painting battles or even military scenes, Künstler's catalog appeals to a more diverse audience.

Women in particular, seem to make up a wide demographic of Künstler's collectors, as the more intimate and romantic portrayals of life on the home front sell just as well, if not better at times, than his depictions of heroic clashes and glorious charges.

"Drama," he said, "can be found anywhere. Whether on a battlefield or in a parlor, drama is the No. 1 artistic element that makes a good painting. I'm very glad that ladies can find something that they like and I hope that their husbands do, too."

Another element that seems to stand out in the entire body of Künstler's work is the "favorable factor" of those that he chooses to depict. From Gen. Robert E. Lee and Col. Joshua Chamberlain, to President Abraham Lincoln and the hundreds of everyday people who have graced the scenes on his canvas, every one of them is warm, inviting and personable.

He said, "I find that I really have no desire to paint 'bad guys.' I always try to paint people exactly as they were and I don't think that I would want to spend much time on someone who was not likeable."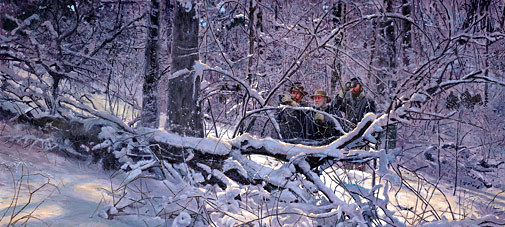 'So Close to the Enemy' depicts General Lee, Gen. Jackson and Major Heros von Borcke executing reconnaissance near Fredericksburg on December 12, 1862. ORDER HERE
SPACER

He did admit that this may slant his work to some extent, but after looking at the amount of time and meticulous research that he dedicates to each and every subject, it is entirely understandable that he favors painting pieces with positive messages. He added that he has absolutely no political or religious agenda and that he strives to portray people simply "as they were."

Looking over Künstler's press kit, it is amazing how far and wide his unintentional message has spread. In 1986, more than 200 of Künstler's paintings were published in a book entitled "The American Spirit--The Paintings of Mort Künstler."

A second title, "Images of the Civil War--The Paintings of Mort Künstler," was published in 1992, with text provided by Pulitzer Prize- winning author and historian James McPherson.

In 1994, Künstler's companion book to the film "Gettysburg" was released along with a one-hour TV special on the Arts & Entertainment Network. In 1998, a seven-week exhibition at the Nassau County Museum attracted more than 30,000 visitors, which broke the previous record set by a Picasso exhibit.

The following year, Gov. James Gilmore declared a "Mort Künstler Day" in the state of Virginia. Since then, he has garnered accolade after accolade while being commissioned as the official artist for several noteworthy subjects, such as the U.S. Postal Service "Buffalo Soldiers" stamp, the Ohio State Bicentennial, the H.L. Hunley and the Middletown Ohio Veterans memorials.

In 2001, Künstler put out a companion book to his Gettysburg project, for the prequel film "Gods and Generals," and was awarded the Henry Timrod Southern Culture Award by the Military Order of Stars and Bars. Two years later, the M.O.S.B. presented him with the Jefferson Davis Award.

It would appear that Künstler's mantle would be starting to strain with so many awards and acknowledgements, but this is not what motivates the painter.

"Of course everyone likes to be patted on the back," he said, "but if you start doing work strictly for your own benefit and gain, it loses its honesty."

He shared the philosophy that has kept him at the top of his field for almost 50 years, saying, "I always refer to the three H's. To be good at anything in life, you have to have the 'hands'--the skill to accomplish something; the 'heart'--a passion for what you do; and the 'head'--the mind-set to understand why you are doing it in the first place."

"Heart" is a huge part of the "Künstler way" of doing things, as he is actively involved in many worthwhile charities and organizations. In addition to allowing nonprofit groups such as the Civil War Preservation Trust to raffle off his prints for fundraising purposes, he also dedicates a portion of his philanthropy to non-Civil War-related groups. This includes the Oyster Bay Boys & Girls Club and the Timber Ridge School for Boys in Winchester. Each year, for more than a decade, Künstler has designed a special commemorative Christmas ornament, with the proceeds from sales going directly to the school.

Künstler also expressed a deep gratitude for his staff, which includes his daughter, Jane. "They are the ones," he said, "that are responsible for ushering me into the 21st century, whether I like it or not." Künstler has shamelessly confessed to having zero knowledge of computers, yet his studio has one of the most dynamic and popular Websites of any modern painter today. His Internet address averages over several million hits per month and has enabled people to purchase his work from anywhere in the world.

"I don't use it," he said, "but I am so glad that people can get to my work without having to drive long distances to a gallery."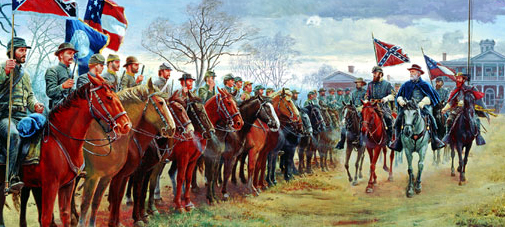 'The Review at Moss Neck' depicts Generals Lee, Jackson, and Stuart reviewing Rooney Lee's cavalry regiment at Moss Neck Plantation on January 20, 1863. ORDER HERE
SPACER

Surprisingly, Künstler also maintains a very limited sense of what his contemporaries are doing. With the exception of seeing another painter's work when it appears alongside his on the tearsheet samples that are supplied by Civil War magazines that carry his advertisements, he doesn't really follow anyone else's career.

"I'm so busy doing my own work," he said, "that I don't allow myself to become distracted by other people's stuff." He added, "There are a lot of very talented artists out there."

Künstler was asked if he had a favorite painting. His answer may provide the reason why he still is able to create such brilliant compositions after so many years in the business.

"Whatever painting I'm working on at the time," he said. These paintings can take anywhere from a few days for sketch-like illustrations, to two months of solid work for the major oils.

Prices of his prints range from $350 to $3,200, and original paintings can go for as much as $100,000. *Originals are available through Hammer Galleries in New York.

One piece that he cited as being particularly challenging was the 22-by-48-inch canvas titled "Jackson Commandeers the Railroad." The level of detail in this piece is startling and one could easily find oneself staring at it for hours, still not seeing it all.

This is the type of painting that incorporates all of Künstler talents in the rendering of all things living and inanimate. "Design" he said, "is the most important element. Brushstrokes cannot save a poor design. Everything revolves around it."

Künstler often looks for angles that have yet to be captured on canvas and prefers to alternate between day and night schemes. He compared this approach to a baseball pitcher who doesn't just throw fastballs all the time. "They alternate their pitches," he said, "and although the hitter may still know what's coming, he doesn't know when it's coming. This keeps things fresh for me too."

The scenes that are depicted in Künstler paintings are based on actual events. He often visits the sites where they occurred, and he also consults historians, period photos and written accounts (if available) because the areas are usually different from how they appear today. Research is the foundation for each new painting and Künstler has a reputation for portraying events with extraordinary authenticity and drama.

Künstler has been executing masterful designs for close to five decades now, and shows no signs of slowing down. He recently completed a highly original piece depicting Union Cavalry commander Gen. John Buford on the day before the Battle of Gettysburg (June 30, 1863), and is planning to do a nighttime scene depicting Confederate Gen. Nathan Bedford Forrest attempting to restore order amid the chaotic riots that took place in the Tennessee capital of Nashville.

For more information on Mort Künstler latest paintings, appearances and upcoming events, visit the artist's official Web site at mortkünstler.com. To see some of his work exhibited, visit Fredericksburg Historical Prints downtown at 829 Caroline Street.
---
AUTHOR'S NOTE: Due to the extensive use of images throughout the printed article, several sections were edited out to accommodate the space. These cuts are being included here as separate elements:
In the 1970's, Künstler began to transition from a commercial artist to a fine-arts painter whose work was beginning to be noticed by serious art collectors. Originally the genre that seemed to generate the most interest was that of Western subjects, but following his one-man show at the prestigious Hammer Galleries, Künstler's aptitude for portraying historical subjects took precedence over all other subject matter. First and foremost in his artistic arsenal was an acute ability to render a wide variety of subjects with a masterful style. This included people, animals, vehicles and architecture. No matter what the composition required, Künstler's meticulous attention to anatomy, perspective and the use of light enabled him to draw or paint anything and everything necessary to tell the story.
Tom Lovell, who is considered to be one of the greatest American Western painters of all time, once spoke of Künstler's diversity and skill. In an interview that was conducted in 1986 he said, "We have similar approaches to picture making and understanding one another." He added, "I marvel at his ability to depict complicated machinery, handle large crowds of people, portray characters, draw animals well - in short, to deal with any picture problem that comes along."
From postage stamps, to commemorative prints and veterans' memorials, Mort Künstler is without a doubt, one of America's most premiere artists. He is also one of its most cherished visual historians. It is through the use of a paintbrush on canvas that he has preserved a priceless anthology of American history that will be shared for many more "remarkable generations" to come.
---
MICHAEL AUBRECHT is a Civil War author and historian who lives in Spotsylvania County. For more information, visit his Web site at... Send e-mail to his attention to gwoolf@freelance star.com.
Images courtesy of Künstler Enterprises Ltd. For more information, visit mortkünstler.com.