The ugly truth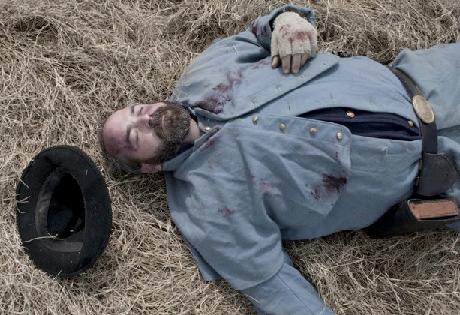 Today I finished my speech for the upcoming screening at the Stafford County Historical Society on October 21st. I was originally invited to give a presentation on Mary Ball Washington, but after several members attended our premiere in Fredericksburg, a showing of the film took precedent. Following the documentary, I will be adding remarks that tie Kirkland's actions in with Stafford County's experiences. In order to do that I am "adding on" the rest of the story, which is the Union army's evacuation of their wounded and retreat across the river.
This approach takes the film's commentary on the human tragedy of the battle and transports the suffering, off of the Fredericksburg battlefield, over into Stafford County. I also talk about the public outrage to the mass casualties and Lincoln's reaction to it. The more I watch this film with audiences, the more I realize that we made an anti-war film. I am very pleased that our initial goal of not glorifying the Civil War came through. There is a way to pay tribute to the action of courageous men, without romanticizing the horror that they inflicted on one another.
Even the music in our film depicts the brutality of the story. The theme song to The Angel of Marye's Heights is titled "Fredericksburg 1862" and was written and performed by Will White. A tremendous songwriter and musician, Will generously allowed us to use his music and even donated copies of his latest CD "Rise Above" for us to play and sell at our events. He is a Virginia native who now lives in Calgary, Alberta, Canada. Will's family's roots span the breadth of the South, and his songs reflect that heritage: bluegrass, Appalachian old-time, Delta blues, country and gospel, sung and played on 5-string banjo, acoustic and National steel slide guitars.
Will's lyrics capture the essence of the film. Here's the first verse:
They might have crossed the Rubicon and charged the gates of Hell
No mortal man could cross that land the Rebels raked so well
The soil was sown with flesh and bone and watered down with blood
As drops of rain they fell to stain that field of frozen mud, that field of frozen mud
You can literally 'see' the battlefield as depicted in his words. (Watch Will's video under the Media tab in the Music section over on The Angel of Marye's Heights website. And visit his website at http://www.willwhitemusic.com/).
I am anxious to see if this approach is well received as far too many speakers nowadays tend to gloss over the ferocity of war. If I do this right, the audience will leave with a better sense of what Kirkland and his fallen foes experienced after the battle ended. That being death, destruction, and devastation.
Posted by ny5/pinstripepress at 11:21 AM EDT
Updated: Wednesday, 29 September 2010 9:45 AM EDT
Permalink
|
Share This Post