Hero and Host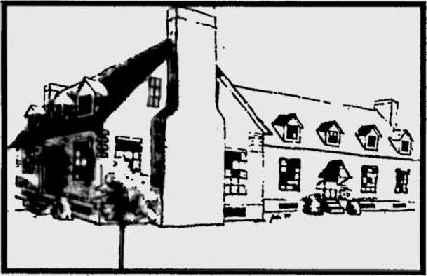 ABOVE: A sketch of Weedon's Tavern based on an insurance paper description.
(Sketch by Philip K. Brown, Courtesy of Paula S. Felder, The Free Lance-Star, December 1999)
CORRECTION (Posted 5/1/10): Historian Marian McCabe was kind enough to identify some incorrect data in my post on Weedon's Tavern and offer the following insights: I noticed that in the section of your blog on Weedon's Tavern you stated that it was originally built as a home by Charles Washington. Charles Washington's home, located at 1306 Caroline Street between Fauquier and Hawke Streets, did indeed become a tavern, under a different owner at a later date. In 1792, the house was leased to John Frazier, who named in the Golden Eagle Tavern. In 1821 it was renamed the Rising Sun Tavern by a new tavern operator. In 1827 the building once again became a private residence. It is now owned by Preservation Virginia and is open to the public as the Rising Sun Tavern, a restored 18th century tavern. Weedon's Tavern (originally Gordon's) was located at or very near the intersection of Caroline and Amelia Streets – as you noted, "nearly opposite" the town hall and public market, which were located between Caroline and Princess Anne and George and Hanover Streets. Although he had nothing to do with the building itself, Charles Washington was a partner in a butchering business run by George Weedon. Thank you Marian.
A few weeks ago I briefly mentioned a Fredericksburg establishment known as Weedon's Tavern. This is where Thomas Jefferson met with his political contemporaries in 1777 and agreed to author a bill for spiritual liberties in America. The committee present at Weedon's was composed of George Mason, George Wythe, Edmund Pendleton and Thomas Ludwell Lee. Jefferson's declaration of tolerance that followed resulted in the Virginia Statute of Religious Freedom. This mandate initiated the separation of church and state and is still a part of the Old Dominion's Constitution. Weedon's Tavern therefore played a small role in one of the most politically significant events in our nation's history.
The original structure was built as a home by Charles Washington in 1760 and was later converted into a tavern. It was owned by a subordinate of General George Washington's named George Weedon, who later became the mayor of Fredericksburg. This was the third inn under Weedon's management as he had previously run Gordon's Tavern and the Jockey Races. These colonial hot-spots became regular gathering places for both freemasons and private gentlemen's clubs. According to a 1999 article by Paula S. Felder in The Free Lance-Star, Weedon's ledgers (1773-1775) contain over 500 accounts that provide "an invaluable glimpse of people and customs in Fredericksburg during the last years of the colonial era."
As an experienced military officer, Weedon had served as a Brigadier General in the Continental Army and later in the Virginia Militia. Second in command (and brother-in-law) to Fredericksburg patriot High Mercer, he was present at Trenton, Brandywine, Germantown, Valley Forge, Delaware Crossing and the Yorktown Campaign. Prior to the War for Independence, he served as a Lieutenant under George Washington during the French and Indian War. His service to General Washington however, did not end in the field. In the Diaries of George Washington (Vol. II. 1766-70) the author recorded that:
George Weedon kept a "large and commodious" tavern on the main street of Fredericksburg (now Caroline Street) "nearly opposite" the town hall and public market. Frequented "by the first gentlemen" of Virginia and "neighboring colonies," it contained "a well accustomed billiard room" and was the place where local horse races were arranged…His fellow Freemasons sometimes adjourned there for food and entertainment after meeting at the town hall…It was a common practice among Virginia gentlemen of this time, when dining or supping at a tavern, to do so in groups either at a private table or, at a large tavern like Weedon's, in a private room. They would be served as a unit by the innkeeper and then would club for the cost of the food, drink, and room; that is, they would divide the total bill equally. On this evening GW [referring to George Washington] paid 2s. 6d. as his share of the club and lost 15. 6d. at cards.
Despite his post-war popularity as an inn-keeper, not all who had gone off to war with George Weedon held him in the same regards as General Washington. Some of his peers felt him to be far too cautious and demure on the battlefield. This included military equals like the Armand Louis de Gontaut, Duc de Lauzun (later duc de Biron), a French soldier and politician, known for the part he played in the American War of Independence and the French Revolutionary Wars. In The Duc de Lauzun and his Legion, Rochambeau's most troublesome, colorful soldiers, Robert A. Selig recalls how Lauzun's memoirs accused Weedon to be at times, far too passive on the battlefield:
Lauzun's Legion left Lebanon on June 21 and reached White Plains, New York, in early July, But the proposed siege of New York City was too much even for the combined Franco-American army. News of the departure of Admiral de Grasse's fleet for the Chesapeake Bay caused a change in plans. On August 18, the armies began a march for Virginia. By August 30, the legionnaires were resting at Somerset Court House, and by September 8 they had reached Head of Elk, Maryland.
Here Lauzun and his infantry, 270 men, embarked on boats for the journey down the Chesapeake. The hussars under Vicomte Rene Marie de Darrot, 250 men strong, forded the Susquehanna River at Bald Friar's Ferry, and advanced south by Baltimore, Georgetown, and Fredericksburg. They crossed the Rappahannock River two miles above Falmouth, and rode on to Williamsburg. There the hussars received orders to reenforce the 1,200 or so militia under Brigadier General George Weedon encamped at Gloucester Courthouse on the north side of the York, where they arrived on the 24th.
Lauzun said in his memoirs that on the previous day a distressed Washington had informed him that "Lord Cornwallis had sent all his cavalry and a considerable body of troops to Gloucester, opposite York," where they were "watched by a corps of three thousand militiamen under the continental Brigadier-General Weedon." Lauzun considered Weedon, his senior, "a good enough soldier, but one who hated war, in which he had never wished to engage, and went in deadly fear of coming under fire."
The commander-in-chief suggested, Lauzun said, that he would tell Weedon that Weedon could have "all the honours" of war but forbid him "to interfere in any way" with Lauzun. Lauzun rejected the arrangement. Once his infantry had disembarked ahead of Rochambeau's main army near Jamestown on the 23rd, Lauzun set out for Gloucester, where he joined his cavalry on the 28th.
He was determined on "getting on excellently" with his American counterpart. Lauzun could be charming. Rochambeau once described him privately as the "most amiable man in France." But he also thought that Lauzun was "often the most foolish...who never had enough force of character to be successful." Weedon, an innkeeper from Fredericksburg who had seen battle more than once, may have been "the best fellow in the world," whose "one desire was not to interfere in anything." But he had his pride and saw no reason to defer to a boisterous French aristocrat.
Weedon may have been afraid of the British, but he was not afraid of Lauzun.