Event reminder and book update: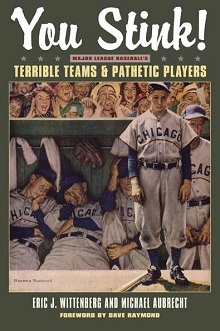 This Sunday (March 18) I will be giving a lecture at St. George's Episcopal Church on 'The Great Revival' as part of their Civil War Forum Series. It begins at 9:55 am and will take place in their Sydnor Hall. My presentation will include a brief overview of challenges faced by the church due to the outbreak of war and the events and experiences of both soldiers and civilians during the revival of 1863. The address is 905 Princess Anne St. (Enter the hall from beneath the church's nave, from George Street.)
I also wanted to say that I have just finished reviewing the final poof of "You Stink! Major League Baseball's Terrible Teams and Pathetic Players" written by Eric Wittenberg and myself. The final result is 350 pages of glory and clearly a breakout title for us. There will be lots of press on this one so look out ESPN, here we come! Eric and I are developing a blog for "You Stink!" and there will be lots of baseball book-related posts here as well.