Back in business...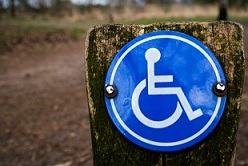 This weekend I dusted off our wheelchair equipment in anticipation of this year's upcoming tourist season. Since AABT's launch last year, we have received great support from both the local tourist and national wheelchair-traveler communities. Our inaugural trips were a surprising success and it seemed like we were just getting started before the season turned cold. Much like the soldier's whose footsteps we follow, we too went into winter quarters. I was able to give several walking tours during the off-season and this enabled me to identify some new areas that I had not considered before. As a result, AABT has expanded our tour of the Fredericksburg Battlefield to include an extended hike on the Slaughter Pen Farm. Tours begin booking again in April.
My goal this year is to get some special programs going with organizations such as the Wounded Warriors Project and Disabled Veterans of America. Nothing gives me more satisfaction that helping to provide folks with a specially-paced and safely-maneuverable tour of our area's hallowed grounds. It is a real privilege for me to do that and I cannot wait to begin again. I am really looking forward to working with my fellow AABT guides Mark Jones and John Cummings.
I just can't believe we were standing on hallowed ground and the both of you so invaluable in bringing it all back to life----chills!! We are truly thankful to you and John and the amazing work you both are doing to keep history alive, thank you. With much thanksgiving. - Mike & Irene Breshears, OR
If you're new to All-Access Battlefield Tours, here's a brief background on us: AABT is a private tour service designed especially for wheelchair travelers who wish to fully explore and experience the hallowed grounds of Fredericksburg and Spotsylvania, VA. AABT's all‐accessible individual or group tours take visitors, their families and friends directly to historical hotspots while moving at their own pace. In order to provide a safe and comfortable expedition, visitors have the option of being transferred to customized travel wheelchairs that feature special wheels and canopies. These rugged outdoor chairs, combined with portable ramps, enable visitors to traverse fields, trails and roads that are otherwise inaccessible. Each experience includes complete accessibility assistance and the highest quality tours, featuring a unique staff of experts made up of local historians, authors and preservationists. For more information, please visit our website.
Please spread the word to anyone who may be interested in our services. We are a small, locally owned and operated business who needs all of the promotion that we can get. Thanks!