Fireside Chat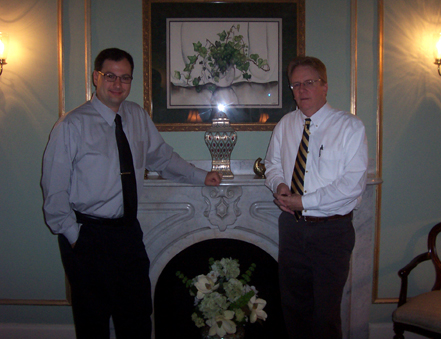 One of the personal highlights from our recent screening at Liberty University was the opportunity to hang out with my good friend
Richard Williams Jr.
Richard and his lovely wife joined our party on Saturday for a tour of the Civil War Chaplains Museum, a dynamite dinner at Doc's Diner, and the event itself where he gave the invocation. They also accompanied us to services at Thomas Road Baptist Church on Sunday. I wish we had more time to chat, but both of our schedules were as usual, quite busy. A board member at the CWCM, Richard gave an excellent impromptu presentation during our museum tour on the contributions of African-American clergy during the war.
The Williams also stayed with us at the Carter Glass Mansion where Richard pointed out something of particular historical significance that is often overlooked. The fireplace mantle in this photograph of us was originally located in the Nation's second Capitol after the first was burned by the British in the War of 1812. Two of these marble mantles were acquired by Senator Glass in 1923. When Liberty University assumed control of the premises in 1977, the previous owners retained the mantles. Recently, one of these gems was returned to the mansion and installed in the dining room.
The entire Carter Glass home is decorated with a distinctive Colonial motif, which was a particular favorite subject of the late Dr. Falwell. Several of the room names echo this theme and include "The Washington," "The Jefferson" and "The Williamsburg." Many paintings and books on the Founders adorn every table and bookshelf and the furniture is all colonial antique. On my next stay I promise to shoot some casual video of the house and do a "Carter Glass Cribs" tour.
On a related note: Yesterday I was informed that the award-winning Free Lance-Star Town & County (of which I contributed many pieces to) is being discontinued due to budget cuts and that my favorite editor Gwen Woolf is retiring as a result. Five years ago, Gwen and the T&C gave me my first opportunity to write articles about the Civil War when all I had published to date was baseball material. Today, they are no more. As a contributor, I find this news to be disappointing. As a Fredericksburg resident and reader, I find it to be devastating. Richard Williams and I were first introduced to one another when I reviewed his book Stonewall Jackson "The Black Man's Friend."
Here are links to all of the articles I penned for the T&C from 2005-2010:
FEATURES:
Stonewall's Steed, Little Sorrel
Living The Cause: Lee's Lieutenants
Mort Künstler: An American Master
Mort Künstler Unveils Local Print
Human Decency During War
John Adams Elder: Fredericksburg's Civil War Artist
What Black History Month Means to Me
Honoring a Medal of Honor Winner
Angel of the Battlefield
BOOK REVIEWS:
Lost Triumph: Lee's Real Plan at Gettysburg and Why It Failed
U.S. Grant: The Making of a General, 1861-1863
To Make Men Free: A Novel of the Battle of Antietam
What Caused the Civil War? Reflections on the South and Southern History
Old Alleghany: The Life and Wars of General Ed Johnson
Reconstructed Yankee
Four Years in the Stonewall Brigade
Lincoln In Stafford
Shock Troops of the Confederacy: Sharpshooter Battalions of the ANV
No Greater Courage: A Novel of the Battle of Fredericksburg
Plenty Of Blame To Go Around: Stuart's Ride To Gettysburg
Stonewall Jackson "The Black Man's Friend"
Rush's Lancers: The Sixth Pennsylvania Cavalry in the Civil War
Stealing The General: The Great Locomotive Chase and the First Medal of Honor
Still Standing: The Stonewall Jackson Story
No Soap, No Pay, Diarrhea, Dysentery & Desertion
Andersonville To Tahiti: The Dorence Atwater Story
Sinners, Saints, Soldiers in Civil War Stafford
The Last Days of Stonewall Jackson
Posted by ny5/pinstripepress at 11:46 AM EDT
Updated: Wednesday, 6 October 2010 10:32 PM EDT
Permalink
|
Share This Post