Christmas in October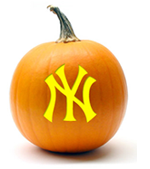 I've waited to post anything on the ALCS in fear of jinxing the outcome, but as I sit here watching Mariano Rivera close out Game 6 with a score of NYY 5 - LAA 2, I can safely acknowledge that the 2009 Bronx Bombers have secured the victory and a ticket to the Fall Classic. Well done gentlemen. Well done!
What makes this particular AL Pennant even sweeter is the fact that the New York Yankees will be moving on to meet the NL's defending World Champion Philadelphia Phillies. The "Phils" of course are the beloved team of my friend and co-author Eric Wittenberg, as well as Dave Raymond, the original "Phillie Phanatic" and Foreword contributor to our upcoming book You Stink! Major League Baseball's Terrible Teams and Pathetic Players. (How ironic that in the very season we completed our manuscript, both of our teams are meeting in the grand finale.)
To me, there is nothing better than the World Series and this year's promises to be a great one. Both teams are excellent on both sides of the plate and I can easily see this ending in an epic Game 7. Of course Eric and I have pledged to root against one another with a renewed vigor, and then translate that experience into a new addition to our book's Introduction.
I may not know a lot about a lot of things, but I do know a little about baseball. As a freelance writer, I started out as a contributor for Baseball-Almanac where I researched and authored their entire historical section including the World Series, All-Star Game, Year in Review and Post-Season recaps. This was in addition to writing bios, essays and editorial pieces. From 2000-2006, I penned over 375 pieces for BA and I loved every minute of it. Nowadays, I watch more Yankees games than any other sporting event and I can't wait to participate in the MLB Fantasy League at my new job. (I heard a rumor that the U.S. Marshals have a killer rotisserie league.)
People are already emailing me for my predictions and all I will say is that the Yankees must get consistency out of their bullpen, specifically from their middle relievers, and the swingers must stop leaving so many runners stranded on base. Philadelphia is a strong contender and I feel this series will come down to the starters. Whoever has the stronger rotation wins. Hitters won't be a defining factor - whiffers will. Although both ballparks favor the bat, defense will be the key. This postseason has already given us a fielding highlight reel. Look for low-scoring games and lots of 'K's. NY wins in 6 games.

Related links:
Luckiest Fans on the Face of this Earth (eBook)
Articles on MLB history for Baseball-Almanac