No wonder they fought for it.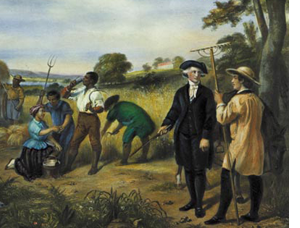 Earlier this month, I posted that I was reading Gary Wills' book "Negro President" Jefferson and the Slave Power. I am enjoying it to say the least, and I can't wait to finish so I can start The Hemingses of Monticello: An American Family by Annette Gordon-Reed. The latter was a bon voyage gift from a good friend and member of The Jefferson Project. Thank you Liane. As a result, I have pledged to read nothing but Jefferson books for the remainder of the year. That said, the Wills book has really opened my eyes to a whole new perspective of America's Founding Fathers and the nation's practice of slavery. I had absolutely no idea how influential (even crucial) the institution was to the establishment and operation of the federal government. Slavery yielded a political power that affected all branches at every level.
To quote a review: The book focuses on the influence of slaveholding in United States politics from the post-revolutionary period through the 1840's, especially 1800 through 1808. It provides a vivid portrait of unsavory and generally ignored aspects of the political career of Thomas Jefferson, the "Negro President" of the title. His opponents styled him thus after the presidential election of 1800, because he would have lost it had not the South's representation in Congress and the Electoral College been augmented by 60 percent of the census of slaves. This was the "three-fifths clause" of the Constitution at work.
That's the basic premise for the book and Wills does as extraordinary job of outlining the three-fifths affect and how much power the South maintained as a result. This passage from Chapter 1 in particular, really caught my attention:
In the sixty-two years between Washington's election and the Compromise of 1850, for example, slaveholders controlled the presidency for fifty-years, the Speaker's chair for forty-one years, and the chairmanship of House Ways and Means [the most important committee] for forty-two years. The only men to be re-elected president – Washington, Jefferson, Madison, Monroe, and Jackson – were all slaveholders. The men who sat in the Speaker's chair the longest – Henry Clay, Andrew Stevenson, and Nathaniel Macon – were slaveholders. Eighteen out of thirty-one Supreme Court justices were slaveholders.
Wills continues to outline additional high-level political positions held by slaveholders (or descendents of slaveholders) all the way up to the turn of the century. To be honest, I never realized how much the federal government was influenced, even controlled somewhat by the institution of bondage. My conclusion: slavery equaled political power, thus political power required slavery. I find that disturbing.
More thoughts to come as I continue to read this fascinating study…