Hamilton essay published in The G&LR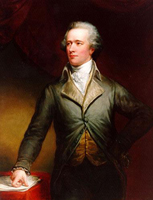 An excerpted version of my essay on the speculation surrounding Alexander Hamilton's sexuality is appearing in the May-June issue of The Gay and Lesbian Review/Worldwide. Titled "Alexander Hamilton's Smoking Gun," this 3-page feature presents Hamilton's rumored homosexuality and includes several curious letters written by Hamilton to his friend and confidant John Laurens.
This is my first piece to be published in The (G&LR), which is a highly respected historical journal. The Mission of the publication is to "...provide a forum for enlightened discussion of issues and ideas." As this is not one of the usual publications that I write for, I am excited about the opportunity to reach a whole new audience with my study into the lives and legacies of the Founding Fathers and I would like to thank Richard Schneider, Jr., Ph.D. who is the editor and chief of the publication for peer reviewing and selecting my essay for publication.
You can view a hi-res PDF of the printed article here. For related topics on history, politics and culture, visit The (G&LR) website.