Blog Browsing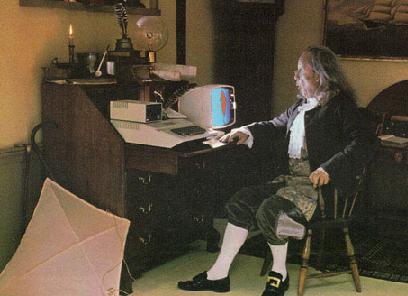 ABOVE: Apple computer advertisement (circa 1980's)
Today I thought I would introduce you to some of the other blogs that are dealing with the Revolutionary War and Colonial times. A quick Google search identifies a plethora dedicated to this era. Unfortunately, the vast majority of them are either very amateur or woefully out of date. I spent some time this weekend sifting through the Internet to identify the cream of the crop in Revolutionary War blogs. Here are my findings:
Boston 1775: This blog focuses on history, analysis, and unabashed gossip about the start of the American Revolution in Massachusetts. The author is particularly interested in the experiences of children in 1765-75. He has published scholarly papers and acted as a consultant for an episode of PBS's History Detectives.
American Revolution Blog: This long-running blog covers all aspects of the Revolution from battles to politics. It is maintained by two history buffs, the pastor of Olney Baptist Church in Olney, MD and a former graduate student of history.
American Revolution and Founding Era: This blog explores the founding of the United States of America, including topics such as the causes, weapons, battles, and personalities of the American Revolution as well as the Constitution, the early Presidents, the War of 1812, and the expansion of the United States.
A Miniature History of the American Revolution: This is a blog about the battles of the American Revolution. The tone is scholarly and includes original accounts of military actions that have not been well discussed. Periodic posts discuss the hobby of military miniatures used to illustrate specific battles.
British Soldiers, American Revolution: This blog is quote: "A place for information about British soldiers who served during the American Revolution, 1775-1783. Thousands of soldiers wore red coats, but little is known about them as individuals. This site will change that, soldier by soldier."
The 2d Virginia Regiment: This is the blog of the 2d Virginia Regiment, a group of dedicated historians with a love of history who represent the life and times of the common Continental soldier. The 2d recreates the entire Revolutionary War scene through encampments and battlefield reenactments.
Walking the Berkshires: This award-winning blog is quote "…an eclectic weaving of human narrative, natural history, and other personal passions with the Berkshire and Litchfield Hills as both its backdrop and point of departure."