Take a chance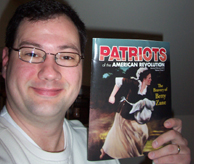 At the risk of sounding boastful, I wanted to share an excerpt from a wonderful email that I received today. I am posting this to show my comrades that one can indeed step completely out of their comfort zone and not only have that decision validated, but also have it lead to new things. (Some of you have emailed me in private saying that you too are thinking about making a change. Today I say do it!)
A few weeks ago I had announced my decision to move my focus from the American Civil War to the Revolution. This was a big risk for me as I had published zero material on the subject, nor had I any working-relationships in that genre. In fact, the closest I had come to formally writing about America's fight for independence was the origin studies that I included in my book on Fredericksburg's historic churches. As I stated in my post, I was essentially starting over as I had no credibility, no experience, and no connections in this period of study. My plan (which I have been following) was to simply immerse myself in the subject matter.
A generous editor from Three Patriots Publishing named Benjamin Smith extended an open invitation for me to submit something for Patriots of the American Revolution. I decided to take him up on his offer and penned a 7-page feature on race and remembrance at Monticello. I also introduced Ben to Eric Wittenberg who has quickly taken a very active role in PAR as their new book review editor.
After Ben sent me a PDF of the finished Monticello article I was fairly pleased, but still nervous about what readers would think. I likened this feeling to the first time I ever submitted an article, a combination of anxiousness and nausea. For the last week or so, I've been cringing at the thought of my first offering being panned. Perhaps I had made a mistake. Maybe I should have stayed in my comfort zone after all?
Well...this weekend I received both my complimentary PAR copies and a congratulatory email (below) from noted historian and writer Hugh Harrington. Hugh and I share publishers and I loved his book on the Civil War in Milledgeville. He too had been a contributor to PAR and his words filled me with a great sense of relief. They also initiated a new friendship that will continue to grow as he, Eric, and I continue to grow - not only in this new genre and in the pages of Patriots of the American Revolution - but also as students of America's fight for liberty and freedom. Change is good.
...As for your article. The first thing I have to say is your photography is outstanding. The article is perfect. Not so deep that people get bogged down but not fluff, either...You cite sources (I don't read articles without sources/footnotes) and tell a compelling story. In fact, it would be hard to read - and look at your photos - and be anywhere near Monticello and not drive over to go over the ground in person. Well done, Sir! I hope to see you again in the Patriots and elsewhere - perhaps even in person. Best regards, Hugh T. Harrington