Agreeing to disagree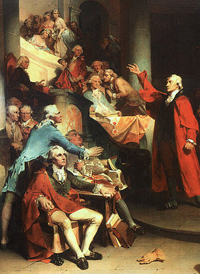 Lately I have noticed that there are a lot of debates going on, some heated at times, all across the CW blogoshpere. The topics igniting these exchanges range from historical interpretation, to political perspectives and blogging etiquette. What I find so interesting is that neither side ever changes the other's opinion. There is both a passion and stubbornness to the process and I find it both educational and entertaining.
The reason I feel inclined to comment on this today is that beyond the blogosphere, America as a whole seems to be fully engaged in this type of behavior. The divide in our nation, whether political, cultural, racial, spiritual, economical or any other "al" is clearly on the rise. The recent elections and cut-throat partisanship that is going on in the government, coupled with biased media coverage has seemingly enraged citizens everywhere. Everyone has an opinion, or an argument to voice and cynicism is en vogue. In a way, the very freedom to fight with one another is what America is all about, yet at the same time the idea of a "united" states speaks to a sense of unity.
We all have the right to disagree, but I often wonder how far a society will fan the flames of dissent before any kind of compromise or agreement can be reached. It begs the question will the government ever be able to cross party lines and work together? Or will liberals and conservatives ever agree on anything? From the days of the Continental Congress to the syndication of the Glenn Beck show, America has always fought hard for its beliefs, especially at the podium.
It is, in essence, what we Americans do best, and the fact that we come from a lineage of instigators who stood up whether it be for independence, or secession, or civil rights, proves that the act of debate is one of the most precious freedoms that we possess. There was a time in our nation's not-so-distant history that men who came from the same land stood across from one another on a battlefield and killed each other. Be thankful that today, we can fire as many volleys as we want at each other across cyberspace because we live in a free society that encourages debate.