Just opened...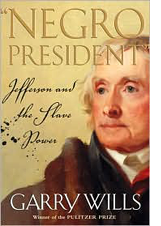 Today I started reading a book by Gary Wills titled "Negro President" Jefferson and the Slave Power. It has been sometime since I read a book for pure pleasure and I am REALLY looking forward to doing so. Unfortunately the newspaper that I periodically write book reviews for is undergoing budget cuts. (Those of you who were expecting reviews, I ask that you please remain patient as I have a great working relationship with the editor and will most likely be back in the future when their resources for freelancers are restored.) As a result, I am going to take some ME time and simply read for fun.
Last Christmas I snagged a hardback copy of this title at a used bookstore to add to my ever-growing collection of books on Thomas Jefferson. There is no other individual in our nation's history as brilliant or complex as TJ and I remain in awe of this man. Anyone familiar with my work with The Jefferson Project knows that I have a newfound fascination for examining the difficult issue of slavery and Jefferson - not only in regards to how Jefferson himself viewed race relations - but also how we today, as people of different colors reflect on his views.
According to Amazon, Wills' book is "a richly detailed study of the United States' tragic constitutional bargain with slavery, and meanders through the lives of several key figures in antebellum American history along the way." This includes issues surrounding the influence of slavery in the U.S. between 1790 and 1848.
In addition to Jefferson, fellow Founder John Quincy Adams and federalist/abolitionist Timothy Pickering also play major roles in this study. The underlying conflict here is a key component in the Civil War. That is the political struggle between Northern versus Slave-State powers which began at the time of Jefferson and erupted with the South's secession. Although I have no intention of working with this material in any formal capacity, I hope to gather some new insights to share with you here.
Beyond the subject matter, "Negro President" looks to be an enjoyable read. Gary Wills is a tremendous historical writer. He won a Pulitzer Prize for General Non-Fiction for Lincoln at Gettysburg: The Words That Remade America, which describes the background and effect of Abraham Lincoln's Gettysburg Address on November 19, 1863.
This past summer I read Joyce Appleby's Thomas Jefferson and I have been casually working my way through The Life and Selected Writings of Thomas Jefferson: Autobiography and Public and Private Letters. It will be nice to read something that I can wrap my little brain around. I am also planning a trip back to Monticello in the fall to photograph the leaves and check out the new Visitor's Center. Perhaps this time I will have a different perspective as I walk Mulberry Row?
I will say that I am entertaining the notion of (someday - off in the future...) writing a lengthy piece on Jefferson's experiences here in Fredericksburg where, at an establishment known as "Weedon's Tavern," he met with his political contemporaries in 1777 and agreed to author a bill for religious liberties in America.
Today, the Religious Freedom Monument stands proudly as a testament to that event. Jefferson himself proclaimed this bill to be one of his three proudest achievements, alongside authoring the Declaration of Independence and founding the University of Virginia. In fact, these three accomplishments are the only ones that he deemed worthy enough to inscribe on his grave marker at Monticello.
BONUS: Gary Wills discussing this book on NPR's Tavis Smiley Show LISTEN HERE