Reading and writing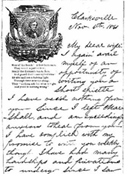 Despite the appearance that I have been spending all of my time driving around Spotsylvania in search of TNH video stops, I have completed some legitimate writing too. This morning I finished a book review for
The Free Lance-Star
and I have also been working diligently through the collection of digitized letters and documents that I was able to obtain from our NPS archives. I have identified 62 pieces that will be featured in my book for The History Press' American Chronicles Series titled
Campfires at the Crossroads: Confederate Encampments in Spotsylvania County, Virginia.
I am truly enjoying the research process on this one and I have been reading piles of personal letters and diary entries from soldiers and civilians. It is bittersweet at times to work through a series of letters from a father to his family only to come upon his death notification at the end. I remember how much I liked writing about everyday people when I did my first book for The History Press on Fredericksburg's churches. I think I can relate to them better, and of course it is always a thrill to read about history that took place in your own backyard.
The majority of these handwritten copies have already been translated by staff members from the NPS, but a few remain that will require my own deciphering. Erring on the side of caution, I am only using excerpts that I can clearly identify beyond doubt. That said, it still takes a great deal of time and patience. If this was a large collection of writings from a single individual, I could construct a key of known letters. This project however contains multiple writings from a wide-variety of individuals. Therefore I will be constructing multiple keys as best I can.
My wife used to work with historical documents on a regular basis at her title company and she has a real talent for reading script. As the majority of properties they covered were located in the Fredericksburg and Spotsylvania region, you can imagine the depth of time that some of these pieces went back. I am hoping to rely on her assistance.
As a historian, this is a crucial skill that far too many people neglect. Our work hinges on the quality of our research and that hinges on our ability to collect and recite data. Much like a drummer will practice rudiments to keep his chops up, researchers need to practice reading historical documents. After all, not everyone had penmanship as nice as Thomas Jefferson's.
According to an article by handwriting expert Kip Sperry titled Guidelines for Reading Old Documents, comparing words you know, with words you don't know, works.
One of the most important fundamental principles in reading old handwriting is that it is always necessary to compare: compare and match unknown letters, characters, or doubtful words in the same document to determine if they are the same. Compare with words on the same page, and then look on the pages before and after the one in question. Compare with letters and words that are familiar to you. For example, if you think a letter looks like an i, see how the scribe makes the letter i in other words on the same page and surrounding pages. Look through the record to determine how the writer forms the letter(s) in question in words you can read. Continue comparisons until you recognize the letter(s) you are studying. Look backwards and forwards in the record for similar words and letters. An unusual looking letter, word, personal name, or place may occur in the record more than once.
He adds: Most of all, practice at reading old documents. It will greatly improve your paleography skills. Study the handwriting carefully and evaluate difficult words letter by letter. Practice transcribing documents for different time periods and localities in America. Patience, practice, and perseverance will pay off in big dividends when studying early American handwriting. Read and interpret the documents carefully. Getting used to old handwriting will come with experience and will become easier to those who persevere.