Military executions under "Stonewall" Jackson examined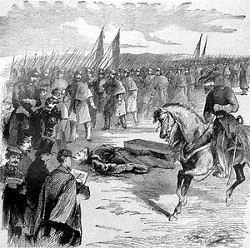 Tip o' the hat to Kevin Levin over at Civil War Memory for bringing this to my attention…
There is an excellent video available online of Peter Carmichael's talk on military executions under General Thomas "Stonewall" Jackson's command. In it Carmichael presents the different forms of punishment used under Jackson's leadership in 1862 and the reactions of Confederate soldiers to these measures. Carmichael is the director of the Civil War Institute at Gettysburg College, and he presented this lecture at the Institute's 2012 conference. Military execution in the Confederate Army is a neglected subject that has always fascinated me. As a Jackson biographer, I am well aware of "Stonewall's" reputation as a strict disciplinarian and that he sometimes struck fear in his own troops. I wrote about this very subject in my book on the Civil War in Spotsylvania County (which BTW is now available for the Kindle and all other eReaders. You can purchase a copy for the Kindle (here), the Nook (here), and also as an Apple iBook (here). Here is an excerpt from this book featuring three first-hand accounts:
Crime and Punishment: Executions: Courts-Martial and Humiliations
Excerpt from The Civil War in Spotsylvania County by Michael Aubrecht
"There is some of the orneriest men here that I ever saw and the most swearing and card playing and fitin [fighting] and drunkenness that I ever saw at any place." — new recruit in the Civil War Society's Encyclopedia of the Civil War
As the war dragged on into its third and fourth years, soldiers on both sides of the conflict began to flee the army in record numbers. Some were traumatized by the horrors they had witnessed, others were shamed by the atrocities they had committed and many more were disenchanted with the inexperienced officers who ultimately hampered their chances at survival. Southern troops were more likely to desert, as their supplies were dwindling at a more rapid rate compared to their Northern counterparts who were better outfitted. According to Dr. James I. Robertson Jr. in his book Tenting Tonight, one in every seven Confederates would eventually desert. As the soldiers fell into a deeper sense of desperation, the futility of their fight and cause became overwhelming at times. One Rebel soldier wrote, "Many of our people at home have become so demoralized that they write to their husbands, sons, and brothers that desertion is now not dishonorable."
In order to curb a mass exodus from spreading throughout the ranks of the Confederate army, officers were forced to make grim examples of those who were apprehended while attempting to abandon their duty. The odds of successfully escaping were said by some to be three to one in favor of the soldier. Those who were caught, however, were dealt with in a swift and deadly manner. Following a court-martial, deserters would often be sentenced to death by firing squad. These public executions were to be carried out in front of the entire camp in an effort to strike fear in the hearts of future would-be fugitives.
Each prisoner would be given an opportunity for prayer with a camp chaplain or priest and then blindfolded and (hopefully) shot dead in the chest by a group of riflemen who usually had one loaded musket and the rest primed with powder in place of projectiles. This was done to help dispel guilt. Many times the prisoner's body would be positioned so as to fall right into a coffin. Sometimes, the lack of marksmanship among the firing squad required additional volleys to finish the job. This made the horrific affair all the more difficult to watch, as the additional suffering of a fellow countryman was unbearable.
Less drastic punishments involved the public humiliation of wearing berating signage, being forced to do hard labor, the branding of the letter "D" for deserter or "C" for coward on the soldier's hand or cheek or simply being drummed out of camp in a reprehensible fashion. In an age when nobility was held in the highest regard, the dishonor one would bring upon himself and his family by running away was usually deterrent enough. However, as the trauma of war destroyed one's optimism, the risk of death and disgrace became less frightening.
Some Confederate officials were concerned about the negative effect of camp executions on what remained of troop morale. Several states instituted a no-punishment clause for soldiers who willfully returned to their ranks. One governor wrote a public affirmation that stated, "Many of you have, doubtless, remained at home after the expiration date of your furloughs, without the intention to desert the cause of your country, and you have failed to return to your Commands for fear of the penalty to which you may be subjected. Many of you have left your Commands without leave, under the mistaken notion that the highest duty required you to provide sustenance and protection to your families. Some have been prompted to leave by one motive and some by others. Very few, I am persuaded, have left with the intent to abandon the cause of the South. He added, "I am authorized to say that ALL WHO WILL without delay VOLUNTARILY return to their Commands, will receive a lenient and merciful consideration; and that none, who so return within forty days from this date, will have the penalty of death inflicted on them."
Here are some firsthand accounts:
---
Letter from Spencer Glasgow Welch, a surgeon in the 13th South Carolina Volunteer Infantry (McGowan's Brigade), to his wife:
Camp near Rappahannock River Va
March 5, 1863
Edwin Jim Allen and Ben Strother took dinner with me yesterday and I think I gave them a pretty good dinner for camp. We had biscuit, excellent ham, fried potatoes, rice, light bread butter, stewed fruit and sugar. They ate heartily as soldiers always do. Edwin is not suffering from his wound, but on account of it he is privileged to have his baggage hauled. A man was shot near our regiment last Sunday for desertion. It was a very solemn scene. The condemned man was seated on his coffin with his hands tied across his breast. A file of twelve soldiers was brought up to within six feet of him, and at the command, a volley was fired right into his breast. He was hit by but one ball because eleven of the guns were loaded with powder only. This was done so that no man can be certain that he killed him. If he was the thought of it might always be painful to him. I have seen men marched through the camps under guard with boards on their backs, which were labeled "I am a coward," or "I am a thief," or "I am a shirker from battle" and I saw one man tied hand and foot astride the neck of a cannon and exposed to view for sixteen hours. These severe punishments seem necessary to preserve discipline.

Spencer Glasgow Welch
---
Letter from Simeon David of the 14th North Carolina Infantry to his mother and father:
Camp Gregg near Fredericksburg. Va. March 12—1863

My dear parents:

I will avail myself of an opportunity afforded this morning of writing you to inform you of my continued good health and spirits. I left home Feb the 10th Tuesday, and reached Richmond the following Saturday. I stopped over there one week, having some claims collected for the families of deceased soldiers. I reached the regt. on the 21st of Feb. in the best of health, and found our noble company as well. On Sunday the 22nd of February the biggest snow fell that I ever saw, being on an average one foot in depth. It lay on the ground several days, during which the regt. and brigades had some of the finest sport snowballing I ever saw. The weather for the past ten days has been very changeable, though we have had a good deal of good weather. Everything is quiet on both sides of the Rappahannock, except that the Yankees fired a few artillery shots on yesterday morning. We have had no explanation yet. Our regiment is still in winter quarters and would be doing finely if we could get a little beef to eat. The men have eaten beef till they like it so much better than bacon. A beef 's liver is a very rare dish. Officers have to pay high now for their commissaries, 40 cts per pound for bacon, 20 cts for beef, 8 cts for flour. The Government is issuing plenty of sugar now, but we have done without until we do not care much about it. General Lee has just detailed a general court-martial for our Brigade, for the trial of commissioned officers and capital offences, of which I am appointed Judge Advocate. The court is to be a permanent one for the trial of offences already committed. Our captain Lister is under arrest, under charges preferred by myself, and will probably be tried by that court. We are all looking with a great deal of anxiety to Charleston and Savannah…

Love to all. Your affectionate son.
S.B. David
---
Account of deserter execution printed in the September 26, 1863 issue of Harper's Weekly:
The crime of desertion has been one of the greatest drawbacks to our army. If the men who have deserted their flag had but been present on more than one occasion defeat would have been victory, and victory the destruction of the enemy. It may be therefore fairly asserted that desertion is the greatest crime of the soldier, and no punishment too severe for the offense…Some of these had enlisted, pocketed the bounty, and deserted again and again. The sentence of death being so seldom enforced they considered it a safe game. They all suffered terribly mentally, and as they marched to their own funeral they staggered with mortal agony like a drunken man. Through the corps, ranged in hushed masses on the hill-side, the procession moved to a funeral march, the culprits walking each behind his own coffin. On reaching the grave they were, as usual, seated on their coffins; the priests made short prayers; their eyes were bandaged; and with a precision worthy of praise for its humanity, the orders were given and the volley fired which launched them into eternity. They died instantly, although one sat up nearly a minute after the firing; and there is no doubt that their death has had a very salutary influence on discipline.