The truth behind Lee's decision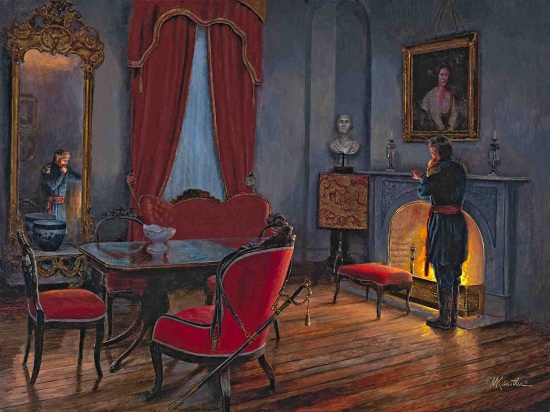 The Great Decision, by Mort Kunstler 2012
When I first started researching information for Mort Kunstler's latest print (depicting Robert E. Lee at Arlington, struggling over the decision to/or not-to assume command of the Federal Army), I was quite surprised by how much misconception there is surrounding the event. It appears that many folks, at least across the Internet, believe that this was for lack of a better term, a "no-brainer." If one goes by the depiction of this event in the film Gods and Generals (watch here), it would seem that Lee took little more than a few seconds to come to his conclusion. Some of the southern heritage folks have also depicted Lee as vehemently denouncing the offer to take up arms against his state and immediately declaring his loyalty to Virginia. This is not true.
The truth is that Robert E. Lee struggled greatly with what would not only be the biggest, but also perhaps the most difficult decision of his life. One has to remember that he was one of the most respected military officers in the country at the time, likened only to George Washington in popularity among his peers, and that his entire family legacy was based on serving the United States. Lee's military career spanned over three decades of exemplary service. To assume that he would cast aside his sense of duty to the Union so callously is not only an oversimplification of the decision, but also of the man. Here is how Mort and I have chosen to depict the real event:
The Great Decision, Lee at Arlington House, April 19, 1861
By Michael Aubrecht (written for American Spirit Publishing)
ORDER PAINTING HERE
Remembered today as the leader of the Confederate States Army, Robert E. Lee's military service was one of distinction long before the Civil War. With a family tree firmly rooted in the armed forces of early Colonial America, his service to the United States Army spanned 32 years. During this time he gained a reputation as a gifted engineer and an exceptional officer. After fighting in the Mexican-American War, he served as the superintendent of the United States Military Academy at West Point.
In October of 1859, President James Buchanan personally requested Lee to assume the command of a contingent of United States Marines and suppress a group of 21 abolitionists who had seized the federal arsenal at Harpers Ferry, VA in an attempt to incite a slave rebellion. Later known as "John Brown's Raid," this seminal event is often referred to as the actual start the American Civil War. Robert E. Lee was therefore a leading commander, albeit on different sides, at the very beginning of the conflict and at the very end of it.
When newly-elected President Abraham Lincoln gave control of the Union Army to Winfield Scott, the general immediately requested that Robert E. Lee be given a top command position. On April 18, 1861, then Colonel Lee was summoned to Washington D.C. where he met with Francis P. Blair who said, "I come to you on the part of President Lincoln to ask whether any inducement that he can offer will prevail on you to take command of the Union army."
Taking command of Union forces in Washington would require Lee to take up arms against his own state of Virginia. Accepting the conundrum of his situation, Lee returned to his beloved home at Arlington House where he spent the next two days pondering the repercussions of his decision. After hours of contemplative thought, he graciously rejected the offer and ended his illustrious career in the United States Army.
Lee's resignation letter to General Scott clearly depicted the difficulty of his decision. It read: "I have felt that I ought not longer to retain any commission in the Army. I therefore tender my resignation which I request you will recommend for acceptance. It would have been presented at once but for the struggle it has cost me to separate myself from a service to which I have devoted all the best years of my life, and all the ability I possessed." He closed with "Save in the defense of my native state shall I ever again draw my sword."
Mort Kunstler's comments:
In 1995, while I was working on the book Jackson & Lee – Legends in Grey, I did a small painting which I called "The Great Decision." As the subject of the piece was so compelling, I knew that I would eventually use it as the study for a major oil painting. Now all these years later, I have finally done it!
Robert E. Lee was a colonel in the United States Army when the Civil War started. On April 18, 1861 he was summoned across the Potomac to the nation's capital and offered command of the Federal Army. Although he harbored mixed emotions over the issues of secession and slavery, he could not take up his sword against his home state of Virginia. After departing Washington, D.C. and returning to his home at Arlington House (located at the present day location of Arlington National Cemetery), he spent April 19th pondering his great decision. The following day he tendered his resignation from the U.S. Army, traveled south to Richmond and accepted command of Virginia's troops with the rank of major general.
There are always problems to solve with every painting, but with "The Great Decision" they were very different. The challenge for an artist to depict Lee's decision was quite rudimentary. However, Robert E. Lee, on April 19, 1861 simply did not look like the Robert E. Lee that we tend to remember. He was much younger, dark-haired and did not have a beard. This required me to reacquaint myself with a man whom I had painted dozens of times before.
I made arrangements to visit Arlington House and meet with its curator Maria Capozzi. Unfortunately, my arrival took place just a few weeks after an earthquake had rumbled across the Piedmont Region of Virginia on August 23, 2011. As a result there was structural damage to the building and all of the beautiful fully-restored rooms had been emptied of all furnishings. Despite this, Ms. Capozzi was still able to provide me with the information that I needed.
I finally settled on what is called the "White Parlor" for the location of the painting although Lee may have thought about his epic decision just about anywhere on the grounds. I still faced the problem of portraying him without his trademark white hair and beard. I realized that if I presented the scene in the evening it would be difficult to tell whether Lee's hair was light or dark. I also felt that if I could compel the eye of the viewer to focus on the back view of the man, they would naturally pan to the left and see his reflection in the mirror. This was accomplished by the use of the lighting effect from the fire. I also posed Lee with his hand upon his chin. This served two purposes. First, the gesture is one of deep thought. Second, the hand would serve to cover the fact that he had no beard at that time.
I had chosen the White Parlor for my scene specifically for its proportions and elegant furnishings. The mantle above the fireplace was personally designed by the general and the furnishings were chosen by both Lee and his wife, Mary Custis Lee. The bust I included is of George Washington, Mary Custis Lee's ancestor.
As my firsthand observations for this painting were made wearing a hard hat, while Lee's magnificent manor was undergoing restoration, I can only hope that by the time this print is released, Arlington House will be fully restored and open to the public once again. It is a home that has witnessed so many historical moments, including the one where one of America's greatest soldiers made one of his most difficult decisions.