To Tell the Truth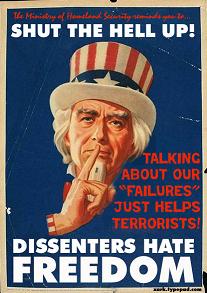 Last night I had a great conversation with a historian friend of mine over the economic crisis in Washington DC, or as he called it, an EPIC FAIL on behalf of our government. He is a freelance political journalist who often covers White House events and although he didn't cover this train-wreck, he did pen an editorial that will hopefully get some play in the local papers. One topic that came up during our discussion was how this debt-ceiling debacle would be recorded historically and even more importantly, how would it be 'spun' in order to make America look less like the disappointment we have become.
After all, isn't that what we have done in this country? We manipulate, revise, and ignore our true history in order to present a more appealing heritage that we all can live with. Ask a foreigner from any other country what we think about American history and they will likely say we are full of bullshit. Frankly, it looks like we've been trying to pull the wool over people's eyes for generations and now that we live in the Age of Information, it's harder to pull off. Several bloggers have brilliantly summarized the dishonesty that exists in our historical memory and what we must do to overcome it:
"[Thomas] Jefferson's story reminds us that history is complicated. As Christians, we must always remember that there are no heroes in history. …History reminds us that when we put our confidence in people, whether they lived in the past (such as the founding fathers) or live in the present, we are likely to be inspired by them, but we are just as likely to be disappointed." – John Fea, author of Was America Founded as a Christian Nation?
"I believe we can honor our ancestors for their admirable qualities and their misdeeds, without needing them to be infallible or blameless. I believe we can look at atrocities and injustices honestly, whether perpetrated by the victors or the vanquished …and start taking responsibility to give an honest appraisal of the evidence of history and its legacy today." – Tim Abbott, "Pride and Shame 150 years after the Fact," Walking the Berkshires
"Therein lies the danger of American exceptionalism. It discourages compromise, for what God has made exceptional, man must not alter. And yet clearly America must change fundamentally or continue to decline. It could begin by junking a phase that reeks of historical arrogance and discourages compromise. 'American exceptionalism' ought to be called 'American narcissism.' We look perfect only to ourselves." – Richard Cohen, Washington Post
To acknowledge our faults and failures as a nation (past and present) is not at all unpatriotic, nor does it mean that we hate our country. It's simply acknowledging the truth. As historians should we not question the lives and legacies of those who came before us? Isn't that the whole point of research and analysis? In recent years I have, albeit painfully at times, come to accept that it doesn't matter if we like the answers we may find. What matters is that we find them.