Circle of Life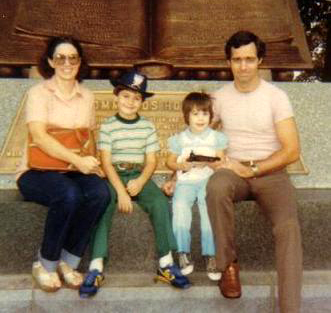 High Water Mark in Gettysburg, 1978 (Tom Aubrecht)
Today's post is a little different from the usual faire here at Blog or Die. It's not about the American Revolution or the Civil War. It's not about the Founding Fathers, or a movie, or book project. It's simply about me.
This past weekend I had the pleasure of taking my mother and father out for a private tour. This was the first time that I've done something like this and I can definitely say that it was surreal (in a good way). It also had a lasting impact on me and prompted this post that I'd like to share today.
Taking advantage of napping grandchildren, my parents and I visited the Fredericksburg Battlefield, a site they had taken me to as a child. After walking the Sunken Road, scaling Marye's Heights and strolling through the National Cemetery, we concluded our jaunt with a brief visit to the Eastern National bookstore where they saw two of my titles (Houses of the Holy and Campfires at the Crossroads) sitting on the shelf in the 'Local Interest' section.
It was then that I realized my life had come full circle. I'm a couple years away from the big 4-0 and I can easily say that thirty-something years before, we were probably in the same place - doing the same thing. It was a proud moment for me for sure.
This is not the first time I've felt nostalgic. Years ago I penned a short, sappy piece titled Birth of a Buff (READ HERE) that recalled my first trip to Gettysburg. In retrospect, that weekend turned out to be a life-changing experience that I treasure to this day.
For those of you who came to appreciate Civil War history in your adulthood, I'm one of those 'LIFERS'…a geek that's been obsessed since I was 7 years old. My parents took me to a plethora of sites in my youth including Gettysburg, Fredericksburg, New Market, Monticello, Fort Ligonier and Williamsburg. I can remember every single one of them as if it was yesterday.
As an adult, my father and I have traveled to Gettysburg, Antietam, Manassas, Winchester and Kernstown. As a Spotsylvania resident, I live in the vicinity of Fredericksburg, Chancellorsville, Spotsylvania and The Wilderness. Yep, feel free to hate me. I am unabashedly spoiled in access to hallowed grounds.
This tour was a little different as it ended in an NPS bookstore, with books on a shelf, penned by me, that would not have been possible if not for the very same trips that I had taken, to the very same locations in my youth. It was like playing "six-degrees of me."
I don't say that to sound prideful (OK maybe a little), but I'm trying to illustrate how there is a clear path that can be traced in my life between then and now. If my parents had never taken me on these trips, and then put up with the general weirdness that comes when you want to dress up like a re-enactor before you're old enough to know what they are, who knows what and where I would be.
Would I still be writing books and producing films? Would I even live in Fredericksburg? Probably not.
Simply put, THIS is what made me who I am today and I'm grateful for it. At the same time I'm also a little sad that my four kids have ZERO interest in traipsing around battlefields. (That is until they come out with something for the Wii.)
As a parent, I pray that they will have lives that are complete and fulfilling, even if they will never know the joy that I experienced, at the ages of 7 and now at 38, with my parents, on a battlefield, in a bookstore.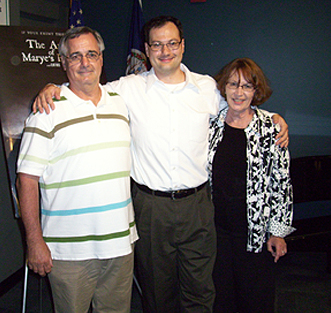 Angel of Marye's Heights premiere in Fredericksburg, 2010 (Tracy Aubrecht)

Posted by ny5/pinstripepress at 12:24 PM EDT
Updated: Thursday, 2 September 2010 10:26 PM EDT
Permalink
|
Share This Post