Last post on this matter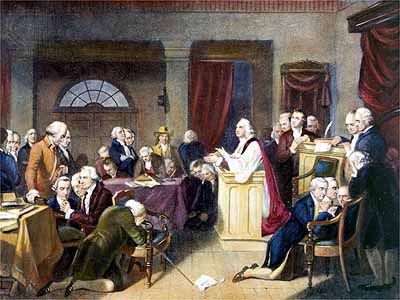 Chaplain Jacob Duché leading the first prayer in the First Continental Congress at Carpenter's Hall, Philadelphia, September 1774: mezzotint, 1848.- Granger Collection - artist unknown
The Christian Nation "debate" is not really an intellectual contest between legitimate contending viewpoints. Instead, it is a manufactured "controversy" akin to the global warming "debate." On the one side are purveyors of a rich and complex view of the past, including most historians who have written and debated fiercely about the founding era. On the "other side" is a group of ideological entrepreneurs who have created an alternate intellectual universe based on a historical fundamentalism. In their drive to create a usable past, they show little respect for the past as a foreign country. - Paul Harvey, blogger at Religion in American History and history professor at the University of Colorado.
The debate over America being a Christian Nation has become a recurring topic here at "Blog, or Die." Over the last few days I have remained frustrated while searching for a way to intelligently explain this dispute and offer some kind of closure. My conclusion is that the argument is fruitless. Neither side will ever concede. The belief or disbelief in a Christian Nation is far too personal. It involves the pairing of two sacred subjects: religion and politics. It was this sense of futility that led me to seek out other bloggers who are dealing with the same dilemma. Not surprising, the more objective and logical explanations were found in the academic realm. This is where John Fea's blog led me to Paul Harvey's blog.
After reading Professor Harvey's remarks (above) I was immediately struck by his use of the term "foreign county" when referring to our nation's past. Perhaps the biggest problem with the Christian-nationalist's perspective is that they tend to treat the Founding Fathers as if they were our contemporaries. They want to believe that the Founders thought like we think and valued what we value. The reality is that they were not the same as us. They lived in a different time - in a different world. Anyone who studies history recognizes the natural progression of human culture. People of the past are not always motivated by the same issues and concerns that motive today's society. In that sense Colonial America and the early Republic were "foreign countries." It seems silly to me that anyone would try to sustain a modern perspective by drawing a parallel between themselves and someone who lived 250 years ago.
The trouble with today's debate isn't the practice of presentism. It is, according to Harvey, "the selective use of anecdotes, proof texts, and the decontextualized way of doing history." I have blogged about the conundrum of using convenient quotes before. Find any verse from Jefferson or Adams that supports organized religion and I'll find two or more that contradict it. It has been my experience that most proponents of the Christian Nation work in reverse. Instead of entering the argument with no preconceived notions - allowing the unraveling of facts to determine a conclusion, they begin their search in defense of their conclusion - going backwards until they find something that validates their beliefs. My supervisor would call that "ass-backwards."
On his blog Harvey adds that this approach is used in order to legitimize the anti-Statist, Christian-nationalist, Evangelical-victimization argument in the present. He writes, "The issue, then, is not Christian conservatives advocating their views in the public square. The problem, rather, is their claim that their beliefs and readings of documents from the past represent a kind of legitimate scholarship that should have its place in the public 'debate.'" It is the battle between history and theology that ultimately leads nowhere. In other words, the argument over America being a Christian Nation is a case of apples versus oranges. One side is searching for facts, while the other is seeking validation.