Stinkin' it up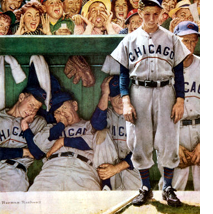 This holiday weekend Eric Wittenberg and I made great strides in preparing our deliverable manuscript for You Stink! Major League Baseball's Terrible Teams and Pathetic Players. We are nearly done with our edits and are now working with the Baseball Hall of Fame on image acquisition. This project truly is a labor of love and we are thrilled that The Kent State University Press has decided to publish it. Due to space constraints, Eric and I decided to keep the most pertinent statistics in the book and make the complete stats available online as a free PDF download. We also trimmed out some stories that we felt were a bit of a stretch. Here's what made the final cut:
You Stink! Major League Baseball's Terrible Teams and Pathetic Players
CONTENTS
Foreword by Dave Raymond (The Philly Phanatic)
Introduction "Monument to Mediocrity"
TERRIBLE TEAMS:
Overview: Criteria, Teams, MLB All-Time Worst Records
1. NOT LOUISVILLE SLUGGERS: The 1889 Louisville Colonels
2. BAD NEWS BROWNIES: The 1898 St. Louis Browns
3. SQUASHED LIKE A BUG: The 1899 Cleveland Spiders
4. "ET TU, BRUTE?": The 1904 Washington Senators
5. THE CURSE CONTINUES: The 1932 Boston Red Sox
6. EVEN THE BABE COULDN'T SAVE THIS ONE: The 1935 Boston Braves
7. FROM DYNASTY TO DESPAIR: The 1916 Philadelphia Athletics
8. 62.5 GAMES OUT OF FIRST PLACE: The 1942 Philadelphia Phillies &
A MAJOR LEAGUE RECORD 23 STRAIGHT LOSSES: The 1961 Phillies
9. AT LEAST THEY WERE CONSISTENT: The 1950-1954 Pittsburgh Pirates
10. THE WORST RECORD OF THE MODERN ERA: The 1962 New York Mets
11. ONE YEAR OF WRETCHEDNESS: The 1969 Seattle Pilots
12. IN NEED OF FORGIVENESS: The 1973 San Diego Padres
13. FUNDAMENTALLY FLAWED: The 1988 Baltimore Orioles
14. A COMPLETE MASSACRE: The 1991 Cleveland Indians
15. SCAREDY CATS: The 2003 Detroit Tigers
HALL OF SHAME:
1. Worst Season: FROM HEROES TO ZEROS: The 1884 Wilmington Quicksteps
2. Worst Investment: MONEY FOR NOTHING: $100M 2008 Seattle Mariners

3. Worst Collapse: ROTTEN TO THE (BIG APPLE) CORE: The 2007 New York Mets
4. Worst Pitching Staff: SCORING TEN RUNS A GAME BUT STILL LOSING: The 1930 Philadelphia Phillies
5. Worst Scandal: CHEATERS NEVER WIN: The 1919 "Black Sox" Scandal
6. Worst Call: *61 IN '61: Maris Gets the Asterisk
7. Worst Team Year in and Year Out: ABANDON SHIP: The Pittsburgh Pirates and 17+ Straight Losing Seasons
8. TOP 10 WORST PLAYS:
1. Buckner's Blooper
2. Fred Merkle's Boner
3. Pete Rose Ruins Ray Fosse
4. George Brett's Pine Tar Incident
5. Cap Anson's Racist Reluctance
6. Players' Strikes ('72, '81, '94)
7. Mickey Owen's Passed Ball
8. Babe Slugs Umpire Brick Owens
9. Disco Demolition Debacle
10. Brooklyn Dodgers Go West
9. WORST PLAYERS
1. BATTER: Bill Bergen
2. PITCHER: Jim Hughey
3. CATCHER: John Humphries
4. FIELDER: Tony Suck
5. GRAND "CHAMPION": Clarence "Choo Choo" Coleman
6. OWNERS: The Not-So-Mighty Quinns
10. DISAPPOINTMENT ON THE DIAMOND: A Timeline of Terribleness
11. NOTABLE QUOTABLES: Lines about Losing…
This title will be released in time for the 2012 season. Stay tuned as Eric and I will periodically update you on this unique project as it advances through the publishing process.