Christmas Crossing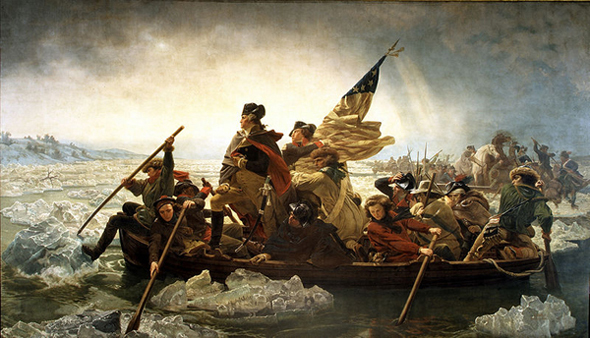 "Washington Crossing the Delaware" by Emanuel Leutze (1851)


"The promise of democracy was lost just a year into these revolutions. But if you had someone like George Washington at the helm, all could be saved." - Carrie Barrett, MET
During this holiday weekend I would like to take a moment to acknowledge the anniversary of what I consider to be THE, most remarkable maneuver in American military history. On December 25, 1776, General George Washington and his troops executed a victorious surprise attack against Hessian forces in Trenton, New Jersey. What made this particular engagement noteworthy was the Continental Army's precarious crossing of the Delaware River prior to the battle.
Planned in complete secrecy, Washington orchestrated this entire maneuver right down to the last detail. On Christmas day he ordered his men to prepare three day's rations and outfit their muskets with fresh flints. Starting at 4pm, all available men, including officers, doctors and musicians were issued firearms and ammunition and told that they were about to embark on a secret mission. Marching in ranks of 8 across, the army departed as quietly as possible from their camp at McKonkey's Ferry. An unexpected storm blew in shortly thereafter, slowing the Continental's tight formations and pushing their arrival at the banks on the Delaware to 6pm, over an hour and a half after sunset.
Washington's chief of artillery, Henry Knox, was in charge of managing the logistics of the crossing. In addition to the infantry, Knox was also tasked with safely transporting eighteen pieces of artillery, as well as the horses required to move them. Adding to the difficulty of managing the boats, the Delaware River was congested with floating ice. In an attempt to set an example, Washington was in one of the first watercraft to depart. This bolstered the confidence of his men, many of whom could not swim.
Once across, Washington and his fellow Virginians formed a picket line around the landing area. General Adam Stephen was charged with covering the arriving Continentals and maintained a tight perimeter that saw no action. Once each soldier reached the other side, he was given the password that would allow him to move about and through the sentry line. "Victory or Death" was the official phrase. Throughout the night, the rest of Washington's forces crossed without any major incident, although Delaware's Colonel John Haslet fell into the water and was quickly rescued.
Unfortunately, the two other crossings below Trenton suffered multiple problems including treacherous currents and massive ice jams that prevented boats from passing. Colonel Cadwalader was able to transport a significant portion of his men across the river, but he was unable to get any cannons to the other side. Unable to support his infantry with any artillery, Cadwalader recalled his troops and did not attempt to cross again until after Washington had already been reported victorious.
After his entire force was in place, Washington split them in two columns, one under the command of General Greene and the second under General Sullivan. He then sent one column into Trenton via Bear Road and the other in from Pennington Road. This enabled the Continentals to launch a surprise attack from two directions and essentially choke the Hessians before they had time to react. As a testament to the success of Washington's strategy, the Continentals suffered 3 deaths and 6 wounded while the German forces had 22 men dead and 98 wounded. Washington's troops also captured 1,000 prisoners and seized a significant cache of supplies including muskets, gun powder and artillery.
Washington personally sent the following report to the Continental Congress informing them of his victory.
Head Quarters, Newtown
27 December 1776
Sir:
I have the pleasure of congratulating you upon the success of an enterprise lying in Trenton, and which was executed yesterday morning. The evening of the 25th I ordered the troops intended for this service to parade back of McKonkey's Ferry that they might begin to pass as soon as it grew dark, imaging we should be able to throw them all over, with the necessary artillery, by twelve o'clock, and that we might easily arrive at Trenton by five in the morning, the distance being about nine miles. But the quantity of ice, made that night, impeded the passage of the boats so much, that it was three o'clock before the artillery could all be got over; and near four before the troops took up their line of march. This made me despair of surprising the town, as I well knew we could not reach it before the day was fairly broke. But as I was certain there was no making a retreat without being discovered and harassed on repassing the river, I determined to push on at all events. I formed my detachment into two divisions, one march by the lower or river road the other by the upper or Pennington road. AS the divisions had nearly the same distance to march, I ordered each of them immediately upon forcing the out-guards to push directly into the town, that they might charge the enemy before they had time to form.
The upper division arrived at the enemy's advanced post exactly at eight o'clock; and in three minutes after, I found, from the fire on the lower road, that the division had already got up. The out-guards made but small opposition, though, for their numbers, they behaved very well, keeping up a constant retreating fire from behind houses. We presently saw their main body formed; but, from their motions, they seemed undetermined how to act. Being hard pressed by our troops, who had already got possession of their artillery, they attempted to file off by a road on their right, leading to Princeton. But, perceiving their intention, I threw a body of troops in their way, which immediately checked them. Finding from our disposition, that they were surrounded and that they must inevitably be cut to pieces if they made any further resistance, they agreed to lay down their arms. The number that submitted in this manner was twenty-three officers and eight hundred and eighty-six men. Colonel Rahl, the commanding officer, and seven others, were found wounded in the town. I do not exactly know how many were killed; but I fancy not about twenty or thirty, as they never made any regular stand. Our loss is very trifling indeed, -- only two officers and one or two privates wounded.
I find that the detachment of the enemy consisted of the tree Hessian regiments of Anspach, Kniphausen and Rahl, amounting to about fifteen hundred men, and a troop of British light-horse; but, immediately upon the beginning of the attack, all those, who were not killed or taken, pushed directly down the road towards Bordentown. These would likewise have fallen into our hands, could my plan have been completely carried into execution. General Ewing was to have crossed before day at Trenton Ferry, and taken possession of the bridge leading out of town; but the quantity of ice was so great, that, though he did every thing in his power to effect it, he could not get over. This difficulty also hindered General Cadwalader from crossing with the Pennsylvania militia from Bristol. He got part of his foot over; but finding it impossible to embark his artillery, he was obliged to desist. I am fully confident, that, could the troops under General Ewing and Cadwalader have passed the river, I should have been able with their assistance to drive the enemy from all their posts below Trenton. But the numbers I had with me being inferior to theirs below me and a strong battalion of light infantry being at Princeton above me, I though it most prudent to return the same evening with the prisoners and artillery we had taken. We found no stores of any consequence in the town.
In justice to the officers and men, I must add, that their behavior upon this occasion reflects the highest honor upon them. The difficulty of passing the river in a very severe night, and their march through a violent storm of snow and hail, did not in the least abate their ardor; but, when they came to the charge, each seemed to vie with the other in pressing forward and were I to give preference to any particular corps, I should do great injustice to the others. Colonel Baylor, my first aid-de-camp, will have the honor of delivering this to you; and from him you may be acquainted with many other particulars. His spirited behaviour upon every occasion requires me to recommend him to your particular notice.
I have the honor to be, & c.
Go. Washington
The site of Washington's crossing has become a hallowed ground on the American landscape and is forever preserved as Washington's Crossing National Historic Landmark, the nearby Washington Crossing Historic Park and perhaps the most famous of all markers, the Washington Crossing Bridge.