Christmas and slavery at Monticello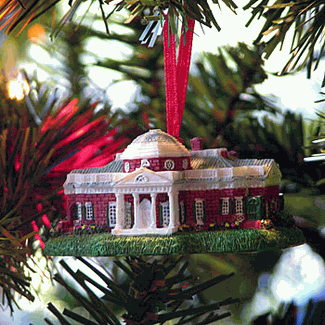 Although Thomas Jefferson's Bible presents a non-traditional view on the birth of Jesus, Christmas celebrations were still held at Monticello and Poplar Forest acknowledging the Christian holiday. In 1762, Jefferson described Christmas as "The day of greatest mirth and jollity" and both friends and family wrote about the decorating of evergreen trees and the hanging of stockings. Christmas was also a time of change for Monticello's slave population.
According to the Thomas Jefferson Foundation: "For African-Americans at Monticello, the holiday season represented a time between - a few days when the winter work halted and mirth became the order of the day. The Christmas season came to represent hours when families reunited through visits and when normal routines were set aside. In 1808, Davy Hern traveled all the way to Washington where his wife Fanny worked at the President's House to be with her for the holidays. Two days before the Christmas of 1813, Bedford Davy, Bartlet, Nace, and Eve set out for Poplar Forest to visit relatives and friends. Enslaved people frequently recalled that Christmas was the only holiday they knew. Many cherished memories of gathering apples and nuts, burning Yule logs, and receiving special tokens of food and clothing."
The Thomas Jefferson Encyclopedia provides the following list of 'Christmas in the Enslaved Community' primary source references:
1790 December. (Nicholas Lewis, Monticello steward, accounts in Ledger 1767-1770). "To 2 1/2 Gallons Whiskey at Christmass for the Negroes."
1797 December 2. (Jefferson to Maria J. Eppes). "Tell Mr. Eppes that I have orders for a sufficient force to begin and finish his house during the winter after the Christmas holidays; so that his people may come safely after New year's day."
1808 November 17. (Edmund Bacon to Thomas Jefferson). "Davy Has Petitioned for leave to come to see his wife at Christmass."
1808 November 22. (Jefferson to Edmund Bacon). "I approve of your permitting Davy to come [to Washington] at Christmas."
1810 August 17. (Jefferson to W. Chamberlayne). "I agreed to take them [hired slaves] at that price and they were to come to me after the Christmas Hollidays when their time with him was out."
1813 December 24. (Jefferson to Patrick Gibson). "We shall begin to send [flour] from hence immediately after the Christmas holidays."
1814 December 23. (Jefferson to Jeremiah Goodman, overseer). "Davy, Bartlet, Nace and Eve set out this morning for Poplar Forest. Let them start on their return with the hogs the day after your holidays end, which I suppose will be on Wednesday night [Dec. 28], so that they may set out Thursday morning."
1818 December 24. (Joel Yancey, Poplar Forest, to Jefferson). "Your two boys Dick and Moses arrived here on Monday night last [Dec. 21]. Both on horse back without a pass, but said they had your permission to visit their friends here this Xmass."
1821 December 27. (Mary Jefferson Randolph to Virginia Jefferson Randolph). "This Christmas has passed away hitherto as quietly as I wished and a great deal more so than I expected. I have not had a single application to write passes or done or seen any of the little disagreeable business that we generally have to do and except catching the sound of a fiddle yesterday on my way to the smokehouse and getting a glimpse of the fiddler as he stood with half closed eyes and head thrown back with one foot keeping time to his own scraping in the midst of a circle of attentive and admiring auditors I have not seen or heard any thing like Christmas gambols and what is yet more extraordinary have not ordered the death of a single turkey or helped to do execution on a solitary mince pie wo you see you lost nothing by being on the road this week."
Although Christmas did not represent physical freedom for Monticello's slave population, it could provide an opportunity for spiritual freedom, as well as the hope for better things to come. According to his records, Jefferson granted a four-day holiday at Christmas in which slaves could visit with friends and family in the community. Christmas was also one of the two times during the year that Jefferson would provide cloth to his slaves for clothes.
Like most masters, Jefferson increased his slave's food rations during this time and on occasion, provided whiskey. During the brief sabbatical Monticello's slaves had the freedom to hold their own services and celebrations, which included the same merriment as their white counterparts. This included singing and dancing. There are no records that indicate that Thomas Jefferson attended any of these events, but Isaac Jefferson once recalled that his brother would "come out among the black people, play the fiddle and dance half the night."
Christmas on Mulberry Row is one of the most striking examples of the complex and contradictory nature of the master-slave relationship at Monticello. Despite its apparent hypocrisy, the holiday season represented a time when enslaved African-Americans could exercise a little levity and celebrate the birth of our Lord and savior.
I would like to take this opportunity to wish all of my readers a very Merry Christmas. God bless.
Posted by ny5/pinstripepress at 10:30 AM EST
Updated: Wednesday, 22 December 2010 10:53 AM EST
Permalink
|
Share This Post