Another Guest Post
Things are progressing well as I prepare for next weekend's big screening in Pittsburgh at the Carnegie-Carnegie Music Hall. Today I showed the film to a capacity-filled room at Spotsylvania Presbyterian Church. My partner Clint Ross has confirmed a very special screening with some of the cast in Columbia South Carolina for the first week of December (details to come). This coming week will be a busy one for me filled with newspaper and blog interviews and of course celebrating the holiday with the family. Upon my return to the blogosphere I will have much to share including a special behind-the-scenes video that shows how much work goes into one interview question. As promised, here is the second guest post by an outstanding historian named Chris Russell who has penned some highly original pieces in PAR. I asked Chris to introduce himself and hope to share reprints of his articles in the future.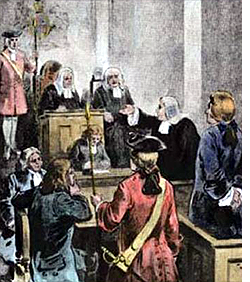 Past in the Present
by Chris Russell
Initially, I would like to begin by extending my thanks to Michael for inviting me to post on his website, and for the opportunity to correspond with him over the last few months. As I've told him before, I admire his extensive work in various histories, but what has been most striking to me has been his drive to share his work with others in so many ways. In reading his works, sharing on his blog site and viewing his films, it is apparent he has a deep seated love and enjoyment for his work. These feelings and devotion to our history is also what drives me to write and share my interests in history with others.
In truth, history has fascinated me for some time. I remember my grandfather telling me stories of his service in World War II, especially fighting in the Battle of the Bulge. When he passed away, I tried as hard as could to remember all he had told me as a youth. I wanted his stories to be retold and searched for records, and gathered oral history from my family. His mementos from the war were eventually left to me, and I enjoyed the research and understandings of the past that these objects offered to me. I found that the more I understood the stronger the connection I felt to my grandfather, especially as I discovered a young version of him that I could not have known otherwise…and just like that , history became a part of my life. I began reading and doing research, and absolutely fell in love with 18th century history and the romanticism and triumphs of the American Revolution and concepts of the Enlightenment movement.
I decided I would try my introduction with an article about the history and events of Kip's Bay. I had been reading about Kip's Bay and noticed large disparities in the accounts for what had happened, and was also bothered by the willingness to judge so harshly those who had retreated in that calamity. I argued my stance with first hand accounts and solid research. Unfortunately, it took some time for me to gather the courage and confidence to finally submit the article to a publisher, but I finally did so to Timothy Jacobs and Benjamin Smith at Patriots of the American Revolution (PAR) magazine. They were very receptive to the article and it was published in Volume 3, Issue 1. Once I had seen my article and my ideas in print, being shared with other people…I was hooked. Since then, I have written about the Catawba Indians during the Revolution and about Dr. Edward Bancroft's spying on Dr. Benjamin Franklin. I have articles pending publication for The Prayers of Patriots, which highlights some of the actual prayers, beliefs, and use of prayer by Founders and Patriots, which is scheduled to appear in the Jan/Feb edition of PAR. In the Mar/Apr edition of PAR I have an article about Elizabeth Maxwell Steele, which was very fun to research and discover here in North Carolina.
Currently, I am working to finish an interesting article about the John Peter Zenger Trial of 1735 (see image above). The purpose of this article is to showcase the beginnings of the rift between England and the colonies when they tried to suppress freedoms of speech and freedoms of the press. At the same time I am researching the explorations of Captain James Cook and his role during the Revolutionary time period…which hopefully should be interesting, since he was a British Captain. Lastly, aside from these articles, I am doing in-depth research into applications of modern psychology and its relevance to the Revolutionary period. If well received, I am hoping to start a string of articles that should be very interesting and carry a unique perspective of the American Revolution. Wish me luck!
---
BIO: Christopher Russell is currently a Parole/Probation Officer in Rowan County, North Carolina. He has served as a Police Officer, a Federal Security Officer, and as a Petty Officer in the United States Navy where he served in the Persian Gulf. He can be reached at clrussell135@aol.com.