Liberty's Kids for kids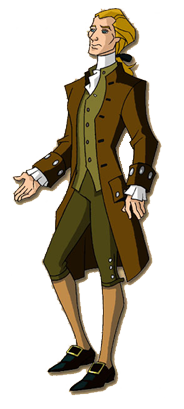 It seems that this month's hot-button-topic across the blogosphere is the argument over teaching good and bad history to children. I have refrained from participating in any of these debates, but wholeheartedly agree that the topic deserves our attention. Education has been a primary topic of interest at our film screenings, and as a parent of four children, teaching history to youngsters is of particular interest to me. From what I see in our schools, I'm not that impressed with the manner being used to ignite an interest in our past with young people. I've always said that our Nation's history is among our most precious resources, but it means nothing if we can't relate to it and apply the lessons learned in our daily lives.
One challenge that remains in the classroom regardless of time and place is how to get kids excited about history. This obstacle is especially difficult when it comes to young children. How do we begin to capture their attention long enough to introduce them to the subject? My youngest kids have accompanied me on trips to Monticello and it was a chore to get them to recall any of the experience. On a recent Sunday morning before church, I discovered a tremendous cartoon called Liberty's Kids. After watching a couple episodes I believe that I have found a perfect fit for introducing my youngest children to the founding of our nation. According to their website:
The primary goal of the Liberty's Kids TV series is to provide young children with a fresh and exciting experience of the extraordinary period of 1773 to 1789 in American history. Through the eyes of two young apprentice reporters named Sarah and James, viewers of Liberty's Kids will go on adventures in search of the real stories of the American Revolution. Although the setting is Colonial America, Liberty's Kids' characters find themselves in the middle of a revolution that confronts issues that still fill the newspapers today - gun control, downsizing government, lower taxes, freedom of the press, and race relations. The entire show is produced using high quality animation and creates an exciting world that today's kids can jump into and discover the real stories of the incredible time that gave birth to the United States of America. Liberty's Kids offers caretakers, from parents to teachers, an extraordinary resource through which they can share with young people the inspiring stories, characters, and values at the heart of America's great experiment in democracy.
I am extremely pleased with this show, both as a historian and as a parent. I highly recommend their website which includes lesson plan material for parents and teachers, as well as full episodes and fun activities. My kids may not remember the master of Monticello, but they know this Thomas Jefferson (pictured here). It is my hope that Liberty's Kids will be used to provide my children with an effective introduction to history that will hopefully mature as they do.
Artwork copyright 2004, DIC Entertainment.