My Mistake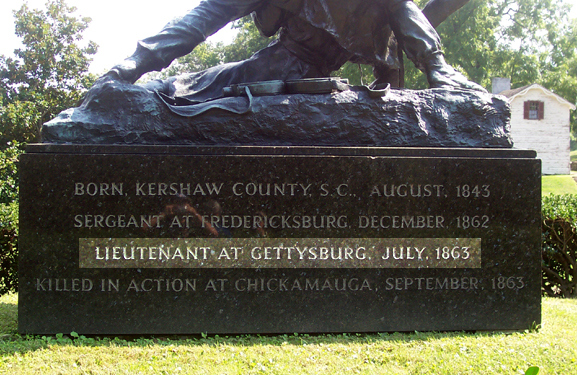 ABOVE: The back face of the Richard Kirkland Monument at the Fredericksburg Battlefield (M. Aubrecht)

Following the release of our documentary Clint and I arranged for several members of the local National Park Service to attend a private screening online. None of these gentlemen were directly involved with the project and we were very anxious to get their unbiased critiques. All of them obliged us and we are very grateful for their compliments and validation. Several of these historians are high-ranking authorities and their positive reviews left us with a tremendous sense of satisfaction (and relief).
In addition to their praise, they also offered up some constructive criticisms. One recurring issue that we were kindly, but consistently pinged on was the closing statement that Richard Kirkland had perished in combat as a lieutenant. This is wrong. As an ongoing debate over the validity of the story of "The Angel of Marye's Heights" is a hot-button topic (see Mysteries & Conundrums 3-part series), I thought that I would comment on this particular error.
Richard Kirkland was NOT a lieutenant - and Yes - I am the one who said so on camera. I believe my line goes something like: "Kirkland, who was a lieutenant at the time, was leading a group of men forward in battle when he accidentally advanced further ahead than his lines, putting himself in imminent danger." I said this when describing Kirkland's untimely demise at the Battle of Chickamauga. I've been saying it for years in both my presentations and tours.
Most of our critics agreed that this common mistake has been repeated for well over a century and that it was understandable that I would cite the fact in my own writings and commentary. This error was first stated in the 1880 Kershaw interview and it is also engraved on the back of the Kirkland Monument on the Fredericksburg Battlefield.
That said, I was still wrong and immediately wondered how such an apparent error could be so widespread and propagated for 130 years. I did a little research on the subject and have identified the following sources (including those penned by my own hand) to share. I do this not to defer or excuse my own error, but to illustrate how history must constantly be re-evaluated for accuracy and that none of us are perfect.
EXHIBIT 1: is taken directly from the Gen. J.B. Kershaw interview that was printed on page 1 of The News and Courier, Camden, S.C., January 2, 1880. In it Kershaw states that: "Little remains to be told. Sergt. Kirkland distinguished himself in battle at Gettysburg and was promoted to lieutenant. At Chickamauga he fell on the field of battle, in the hour of victory. He was but a youth when called away, and had never formed those ties from which might have resulted a posterity to enjoy his fame and bless his country; but he has bequeathed to the American youth, yea to the world, an example which dignifies our common humanity." (Note: The Southern Historical Society Papers, Vol. VIII. Richmond, Virginia, No. 4 reprinted the article in April of that year.)
EXHIBIT 2: Mrs. Harold Hough, a historian for the John D. Kennedy Chapter of the UDC, Camden, SC, Kershaw County Historical Society cited Kirkland as a lieutenant in the opening line of her study entitled "A Rebel Against Injustice Richard Kirkland, Young Humanitarian of Kershaw County, South Carolina." She stated: "On September 20, 1863, Lieutenant Richard Kirkland, died in an unsuccessful spearhead attack before victory at Chickamauga. His last words, 'Save yourselves, men and tell Pa I died right,' exhibited the same pattern of unselfishness he had shown less than a year before at Fredericksburg when he became known as the 'Angel of Marye's Heights.'"
EXHIBIT 3: Cut to years later...my own take on the matter quoted from the lecture "Great Lives That Touched Fredericksburg During the Civil War: The Angel of Marye's Heights" which was delivered to the FCWRT at Mary Washington University. In the section titled "Gettysburg" I state, "By the time of the Battle of Gettysburg, Kershaw had been promoted to a brigadier general in McLaw's Division of Longstreet's Corps. His regiments (including Kirkland's 2nd) fought in the woods and fields of the George Rose farm as well as the infamous Wheatfield. It is said that Kirkland performed with great courage and distinguished himself in battle. He was enthusiastically promoted to the rank of Lieutenant."
EXHIBIT 4: Perhaps the most telling of all when examining how inaccurate history can be forever preserved and propagated is the rear inscription on the actual Richard Kirkland Monument which stands as perhaps the most recognized and significant statuary on the entire Fredericksburg Battlefield. In a summary of Kirkland's life it states: "Born Kershaw County, S.C., August, 1843 • Sergeant at Fredericksburg, December 1962 • Lieutenant at Gettysburg, July, 1863 • Killed in action at Chickamauga, September 1863."
Mac Wyckoff, a retired NPS historian and the leading authority on Richard Kirkland and the 2nd South Carolina recently penned a piece as part of an upcoming book that offers an explanation of how and why this happened.
In "Appendix B: THE ANGEL OF MARYE'S HEIGHTS CONTROVERSY" Mac states that: "The last controversy concerning Kirkland is his rank at the time of his death. As noted above, Kershaw stated that Kirkland was promoted from sergeant to lieutenant for gallantry at Gettysburg. There is no evidence to support this statement. At Gettysburg the captain of the Kirkland's company was killed and two lieutenants wounded, one seriously. It is therefore logical that as 1st sergeant, Kirkland became acting lieutenant and if he had lived longer would have been promoted. But the wheels of bureaucracy move slowly often taking many months before promotions became official. Kirkland's Compiled Service record at the National Archives clearly shows 1st sergeant as his rank when killed at Chickamauga. An article in the Camden newspaper listing the local soldiers killed at Chickamauga shows Kirkland's rank as sergeant."
Kirkland's obituary, printed on October 16, 1863 also correctly stated that he: "Fell, in the battle of Chickamauga, Sergeant R. R. Kirkland, in the 23d year of his age," and the Camden Volunteers post-war roster lists Kirkland as, "Sergeants: Richard Rowland Kirkland - Angel of Mercy promoted in the summer of 1862 - died at Chickamauga."
So Kershaw, Hough, DeWeldon and I all contributed in our own way to the propagation of this error by keeping it alive through our own works. A number of recent Civil War books have also quoted Kirkland at a higher rank and we all likely used the same sources in our research. Although I feel somewhat vindicated to be in such good company, I've said in the past that poor research leads to poor history and that our writings will be someone else's sources.
This is a perfect example of what happens when we assume things to be completely factual, simply because those who came before us did. Now as the producers of a documentary on Richard Kirkland, we can acknowledge his true rank when we have the opportunity and educate our audience beyond the film.