Cross-posted from movie site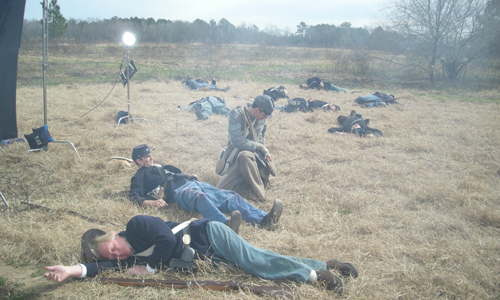 When examining our film at face-value one might assume that we focused entirely on the Confederate perspective. This is understandable as the story revolves around a member of the 2nd South Carolina Volunteer Infantry. However, that would be an incorrect assumption as there is a distinct balance in our script. At a personal level, as I re-examine this story through the eyes of our audiences, I am beginning to see an entirely new perception emerge. To be frank, it is one that I have never really spent that much time focusing on, the point of view of the fallen Federals or the 'victims' so to speak.
What brought about this realization? One of our 2011 bookings will be at the Carnegie Library Music Hall in Pittsburgh, PA. In addition to having an outstanding theater and Civil War museum on site, the Carnegie is also based in my hometown. On April 30th, they are hosting a Civil War program featuring exhibits, speakers, a re-enactment and The Angel of Marye's Heights. In preparation for the talk that I intend to give following the film, I went looking for a local tie-in with our story. This brought me to the 123rd PA Regiment Volunteers who were mustered out of Allegheny County. Below is an excerpt from an account of their experience at the Battle of Fredericksburg:
"On the following day the battle opened, and at three P. M., after the corps of Hancock and French had been checked and terribly slaughtered, Humphreys' Division was ordered in. It was a forlorn hope, but gallantly it went forward, and charged again and again those impregnable heights. What brave men dare do, they did; but it was all in vain. No human power could stand against the storm that swept that fatal ground. The One Hundred and Twenty-third occupied a position in the line, with its right reaching nearly to the pike, and bore manfully its part in the battle, suffering grievously. Lieutenant James R. Coulter was among the killed, and Captain Daniel Boisol and Lieutenant George Dilworth among the mortally wounded. The entire loss was twenty-one killed, and one hundred and thirty-one wounded. All night long it lay in position and through the weary hours of the following day, exposed to a constant fire of the enemy's pickets, and until nine at night, when it was ordered to retire".
Source: Dyer, Frederick H. A Compendium of the War of the Rebellion Compiled and Arranged from Official Records of the Federal and Confederate Armies, Reports of he Adjutant Generals of the Several States, the Army Registers, and Other Reliable Documents and Sources. Des Moines, Iowa: The Dyer Publishing Company, 1908 (via pa-roots.com).
So instead of giving my normal talk focusing specifically on Kirkland's "side," I intend to speak more to the courage and tenacity of the 123rd PA Vols. and the high-command's ignorance that doomed them. By paying homage to Kirkland's act of compassion with this film, we are also recognizing the sacrifice of the men that he tended to. Remember that there are two soldiers on the Felix DeWeldon monument. One is in blue.