DVD update
"Your film was extremely well done from the writing to the cinematography and I must admit that I was pleasantly surprised. When and where can I buy this?" – Thomas Knidley, Fredericksburg, VA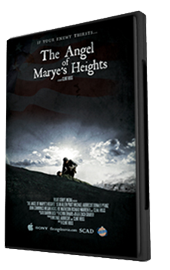 Now that the film is completed, our next goal is to make it available for purchase by you the viewer. It is our sincere hope that this story will be used for both education and entertainment purposes by any audience that would benefit from sharing it. This DVD will include:
28-minute documentary film "The Angel of Marye's Heights"
4-minute dramatic version of "The Mercy Scene"
3 premiere videos: presentations, interviews, and reactions
Behind-the-scenes slideshow w/ 80 photos and storyboards
Young Richard Warren's first-person "Kirkland Monologue"
A "Living History" discussion with Kathleen Warren
Will White's "Fredericksburg 1862" title song music video
PDF of historian Michael Aubrecht's "Great Lives that Touched Fredericksburg: Richard Kirkland"
Scans of actual Richard Kirkland letters
Cast and crew blooper and outtakes
2+ hours of material
In order to distribute this DVD, we need to raise the necessary funds to cover production and legal costs. This is not an exuberant amount of money by any means and we believe that we will be able to reach our goal through donations. If you are interested in making a modest contribution, please visit our PayPal account.
We will also have a donation box at our traveling display. See our screening schedule for upcoming shows. Our hope is to release the DVD in December near the Anniversary of the Battle of Fredericksburg. Thank you for your continued support!