Race and remembrance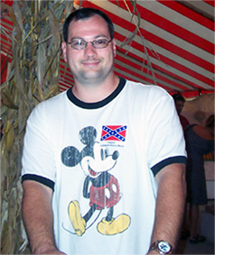 This weekend I spent a wonderful, albeit exhausting day at the Virginia State Fair. As expected, this event drew thousands of visitors and was spread out over 300+ acres at the Meadow Event Park near Kings Dominion. There was a carnival midway with lots of games and rides, an agricultural and equestrian fair, and most importantly, tons of fried food. Of course we were there for the kids so the majority of the day was spent watching them ride all kinds of nausea-inducing attractions while eating artery-clogging delicacies.
The addition of seeing a 1,000+ lb. pumpkin, meeting Lady Luck from the VA Lottery, and cheering on a lumberjack competition made the 9-hour marathon very satisfying. (We also saw a "snake woman" in the Side-Show Attractions that blew my mind and may have permanently traumatized my youngest daughter. The things they can do with smoke and mirrors nowadays...at least I hope it was an illusion!)
I was very pleased to see both a large Civil War camp, as well as a strong presence represented by the Sons of Confederate Veterans in both the Heritage Village and Convention Center. Everywhere you looked people were wearing rebel flag stickers (including yours truly) supporting Confederate Heritage Month. The re-enactor's exhibits, artillery firings, and camp life demonstrations were excellent. There was however, no Federal representation on site, which I found to be a bit odd. I have never been to a CW event where only one-side was represented.
Additionally I saw large crowds gathered at the Confederate Camp, Indian Village, Virginia Dept. of Historical Resources and VA Game and Fish Wildlife Pavilions, but very few people near the African-American History Shelter. What I found most odd was that the crowd as a whole was very diverse, yet I saw very few African-Americans stop at the exhibit. As I was watching an American-Indian tribal dance demonstration, I was facing toward the shelter and observed dozens of people of all colors walking right past it in favor of other exhibits. I counted 4-6 people total enter the tent. Later as I wandered from site to site, I was one of only 2 people (at the time) to peek in at their exhibits. There were some great educational pieces on the African-American struggle in early Virginia.
Presentation was certainly not the problem as they had some wonderful exhibits and artwork. Volunteers were not absent either as people were standing by for questions. Location wasn't an issue as they were literally the first stop at the top of the hill as you entered the footpath towards the village. So why did they appear to have so few visitors? And why so few African-Americans?
As the Vice-Chairman of the National Civil War Life Foundation, I sit on a very diverse board, which has vehemently pledged itself to preserving and presenting the Civil War-era histories of ALL participants. We take this directive very seriously. As a result, race in regards to visitation has become an important part of our focus. Nowadays I find myself being more aware of it when I visit battlefields, museums and other history-related events.
Unfortunately, now that I am paying attention, I see very little diversity around me on tours. On a personal level, I have maybe a handful of white friends who show an interest in history, but as one who spends a great deal of time at places like the Fredericksburg Battlefield and Monticello, I see very few minorities there when I visit.
My friends at The Jefferson Project have also opened my eyes to the differences in the ways whites and blacks view and acknowledge history. Some have told me very candidly that in their opinion, younger African-Americans today don't have an active interest in their people's story. Recently, I had a local black historian tell me that kids just don't care about their roots like they used to. He added that their attention is focused on today's athletes and entertainers because they are far more exciting than civil rights leaders who they can't relate to. Older people, in his mind, don't seek out black history because the past can be painful.
Whatever this gap is, I witnessed it on Saturday, at least for the time I was there. Perhaps the problem is in the presentation (or lack thereof)? I know that Gettysburg and Mount Vernon for instance; have made an effort to diversify their programs.

I would love to hear from my readers of all colors (especially you curators or NPS folks) if they have experienced or observed similar situations. Is there a racial difference in the general public's pursuit of history and is there a quantifiable lack of interest among any ethic communities when compared to others? My query is not just in regards to Civil War history either; I am speaking in regards to all periods that are presented today. A future post will be provided compiling the responses.

What are your thoughts?