Vampires suck. Zombies don't.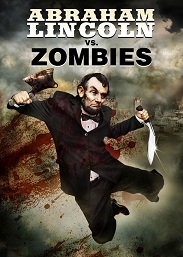 I'm sure many of you have heard about the upcoming film titled "Abraham Lincoln: Vampire Hunter." As both a historian and a film producer I cannot believe something this absurd found its way to the big screen. I suspect that it won't break any box office records once it's released. The mere concept of our 16th president hunting down vampires is absolutely ridiculous and with the continued 'sissyfication' of these bloodsuckers (courtesy of the Twilight Series) I don't anticipate much of a scare.
On the other hand, there is another film, VERY similar in scope, but much more believable. It is titled "Abraham Lincoln vs. Zombies" and already looks to be a winner. This historically-hysterical film stars our friend Bill Oberst Jr. (Sherman's March) as the undead-slaying emancipator and is set for a May 22 release. According to the film's promo:
While the Civil War rages on, President Abraham Lincoln must undertake an even more daunting task: Destroying the Confederate Undead. Oberst, known to over 60 million Facebook users as the cyber-stalker in Jason Zada's viral Facebook application Take This Lollipop, says it is one of the best roles he's ever had, and he's playing it straight. The actors says, "Richard Schenkman's script is an incredibly fun mix of alternate history and horror. This is very much the Lincoln of history...except that he battles the walking dead with a bloody farm implement." Many of the film's lead zombies are being played by self-professed 'zombie geeks;' actors who specialize in portraying the undead, like Perry Foster (The Walking Dead). The production is operating under a "curse" placed on it by an anonymous Savannah resident who wrote in an e-mail to The Asylum: "I place the Curse Of Savannah upon your head and may it follow you the rest of your life if you make this film here. You have been warned." Savannah locations have included the historic Fort Pulaski, where Confederate troops battled a Union onslaught in 1862, leaving nearly 400 dead."
So once again, this movie is about Abraham Lincoln killing zombies. N-O-T vampires. Plausible? Well... (I bet its more historically accurate than a David Barton lecture.) Awesome? Absolutely! Maybe I'll get Bill to provide us with some exclusive insights on this fun project. Afterall, he is the creepiest and hardest working guy in showbusiness. He's also one of the nicest guys you'll ever meet.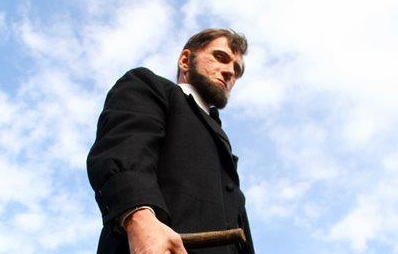 Abraham Lincoln vs. Zombies (2012) Movie Image