Have a drink on me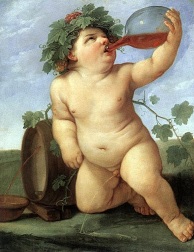 Referred to in historic literature as "the Green Fairy" Absinthe is described as a distilled, highly alcoholic (45–74% ABV / 90-148 proof) beverage. Its legacy has been one of controversy and its reputation as a mysterious, addictive, and mind-altering potion has caused it to be periodically banned in many countries. Absinthe has also served as the subject of numerous works of fine art, films, video, music and literature since the mid-19th century and has spawned an ever-growing subculture of 21st century Absinthe enthusiasts.
Numerous artists and writers living in France in the late 19th and early 20th century were noted Absinthe drinkers who featured the alcohol in their work. These included Emile Zola, Vincent van Gogh, Édouard Manet, Amedeo Modigliani, Arthur Rimbaud, Guy de Maupassant, Henri de Toulouse-Lautrec, and Paul Verlaine. Later artists and writers drew from this cultural well, including Pablo Picasso, August Strindberg, Oscar Wilde, and Ernest Hemingway.
Aleister Crowley was also known to be a habitual Absinthe drinker. Emile Cohl, an early pioneer in the art of animation, presented the effects of the drink in 1920 with the short film, Hasher's Delirium and mystery novelist Sir Arthur Conan Doyle wrote that his renowned detective Sherlock Holmes indulged in the pleasures of Absinthe from time-to-time. Since its resurgence in recent years, modern artists such as musician Marilyn Manson and actor Johnny Depp are unabashed Absinthe drinkers with Manson actually producing his own line of the alcohol.
Despite the fact that there is no scientific proof, Absinthe continues to be frequently and improperly described in modern times as being hallucinogenic. This is entirely false (I think) and at least partly rooted in the fact that following some ten years of experiments with wormwood oil in the 19th century, the French psychiatrist Valentin Magnan studied 250 cases of alcoholism, and claimed that those who drank Absinthe were worse off than those drinking ordinary alcohol, having experienced rapid-onset hallucinations. Such accounts by opponents of Absinthe were cheerfully embraced by famous Absinthe drinkers, many of whom were bohemian artists or writers. Their frequent physical and emotional breakdowns were then blamed on Absinthe, although alcoholism, drug abuse and in some cases, mental-illness was more likely to blame.
As a cocktail connoisseur myself, I have been recently gifted with some Absinthe and will be consulting a close friend with a doctorate in history (and more impressive, the science of bartending) as to the proper preparation and consumption of the liquid. If it was good enough for those folks listed above, it's certainly good enough for me. And I do hallucinate, I promise to write, or paint, or compose something brilliant. Cheers!
Image: Drinking Bacchus by Guido Reni (1575-1642)