Ladies and not-so-gentlemen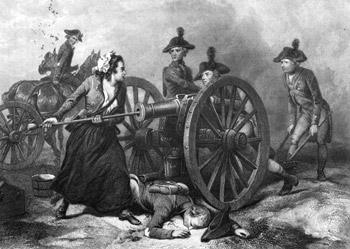 This week I foolishly attempted to participate in a debate over the 1997 decision to include women cadets at the Virginia Military Institute. Personally, I'm all for it. VMI is a top-notch school and if any of my daughters wanted to attend there, I would encourage them. Not surprising, Old Virginia Blog's regulars quickly revealed their own chauvinistic-insecurities by stating among other things that VMI's gender-normaling was quote: "an in-your-face affront to God's Design."
Who talks like that in 2011? I should have realized that these gentlemen are quite set in their ways and could have saved a lot of mental energy if I just walked away. As irritating as it was, this discussion got me thinking about the combat role that some women have played, specifically during the Revolutionary War.
Deborah Samson of Plympton, Massachusetts disguised herself as a young man and enlisted in the Continental Army in October of 1778. She remained for the whole term of the war under the name Robert Shirtliffe and served in the company of Captain Nathan Thayer of Medway, Massachusetts. For three years Deborah acted in various combat capacities and was wounded twice, the first time by a sword slash to the head and later, by a shot through the shoulder. Amazingly, she was able to keep her true sexual identity hidden until she fell ill with a severe brain fever that was sweeping across the army. The attending physician, Dr. Binney of Philadelphia, discovered that 'he' was a 'she,' but did not reveal the charade. After the war Deborah married Benjamin Gannett of Sharon and they had three children together.
Molly Pitcher (pictured above) is a familiar legendary figure of the American Revolution although there is no proof that she actually existed. Her story is associated with the Battle of Monmouth and since 1876, she has been tentatively identified with a woman veteran of the war, Mary Ludwig Hays McCauley, who lived in Carlisle, Pennsylvania. We do know that Margaret Corbin stepped up to the artillery during the attack on Fort Washington after her husband fell by her side and unhesitatingly performed his duties.
Sisters Rachel and Grace Martin disguised themselves as men and assailed a British courier and his guards. They then took his important dispatches, which they speedily forwarded to General Greene. Nancy Morgan Hart, another dedicated patriot, managed to kill British soldiers who invaded her cabin in Georgia. Mary Hagidorn, upon hearing the order by a Captain Hager, for the women and children to retire to the long cellar, said: "Captain, I shall not go to that cellar should the enemy come. I will take a spear which I can use as well as any man and help defend the fort." She then did.
I wonder what these ladies would think about this sexist-driven controversy? The irony is that the very nobility that these men claim to practice would be summarily rejected by the very women they pretend to protect. In retrospect I can't help but wonder why these guys are so adamant about retaining an all-male environment that is completely free from women...unless maybe they fall in line with
this post
. :)