Remembering where it all began...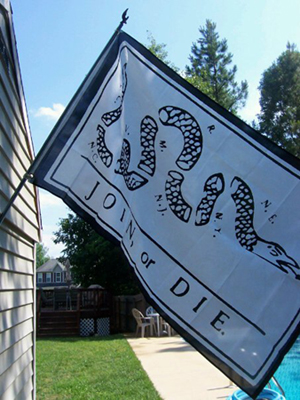 This is how we acknowledge Memorial Day at the Aubrecht house.
The "Join, or Die." flag is based on a well-known political cartoon that was created by Benjamin Franklin and first published in his Pennsylvania Gazette on May 9, 1754. The image appeared alongside an editorial about the disunited state of the colonies, and helped make his point about the importance of colonial unity. The powerful depiction of a segmented snake resonated with his readers who adopted it as a symbol of colonial freedom during the American Revolutionary War.
Franklin was well aware of the courage and sacrifice that would be required to prevent his visual metaphor from becoming a reality. In a letter written to his friend Jonathan Shipley in 1782 he wrote, "After much occasion to consider the folly and mischiefs of a state of warfare, and the little or no advantage obtained even by those nations who have conducted it with the most success, I have been apt to think that there has never been, nor ever will be, any such thing as a good war, or a bad peace."