Manassas Museum screening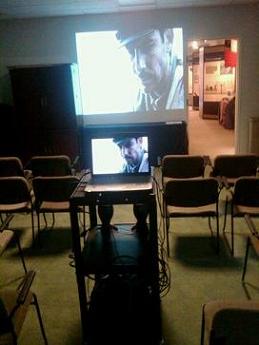 This past weekend's screenings of "The Angel of Marye's Heights" at Manassas Museum went very well. I want to thank store manager Jane Riley for her invitation, as well as Greg Clemmer for his excellent article that ran in the Washington Examiner.
We had a near-capacity crowd at both showings and the audience really enjoyed themselves. The Gift Shop almost ran out of our DVDs and several folks inquired about booking shows for their organizations. This was my third time appearing at the MM. My previous speaking engagements were in support of my books. We were set-up in the museum's conference room. The smaller space provided a more intimate setting than some of our larger screenings and facilitated a more personal discussion. The first showing resulted in a 15-minute Q&A session covering the Battle of Fredericksburg and documentary filmmaking.
Prior to the film I discussed the uniqueness of the Kirkland story (and statue) in relationship to the Fredericksburg Battlefield. I reminded the audience that although most Civil War battlefields (such as Gettysburg, Antietam and Manassas) feature towering equestrian monuments depicting the generals, the only depiction at the Fredericksburg Battlefield is that of a lone infantry sergeant and a fallen foe. This I explained is because they wanted to preserve not only the memory of Richard Kirkland in my opinion, but also the courage and sacrifice of the common soldier. I then challenged all of us to use the 150th Anniversary of the Civil War as an opportunity to preserve and present not just the stories of these "marquee commanders," but also the experiences of the common soldier, citizen and slave. I added that this is exactly why I enjoy the museum at Manassas so much, as they have made a concerted effort to develop exhibits that deal with the wartime lives of everyday people.
During the second showing I discussed how we as filmmakers strived to depict the futility of war and the senselessness of the assault at Marye's Heights. This challenge was accomplished through a series of animations in which we 'hover' the viewer over an animated 2D map (literally) and then immerse them down into a 3D animated battlefield terrain. I closed the talk by offering up my own astonishment at the courage and tenacity of the Federal troops who made that doomed assault again and again and again. I stated that if there was ever an example of fulfilling one's duty that was it.
My next event will be at the Gathering of Eagles on June 4th. This will be my fourth appearance at what is truly a remarkable weekend of historical re-enactments, discussions and debates. I will be set-up in the author's area selling copies of our DVD, as well as the title soundtrack on CD. I will have information on my books as well although I won't have any copies available for purchase. I hope to see you there!