Ben in the 'Burg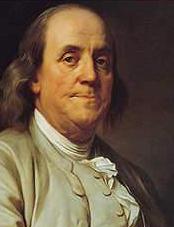 The Senator John Heinz History Center in Pittsburgh has just opened a wonderful exhibition titled "Ben Franklin, In Search of a Better World". The 8,000 square-foot exhibit, which features more than 150 artifacts and nearly 30 hands-on interactive activities, will immerse visitors in Franklin's world and provide new insights on many previously unknown aspects of his amazing life, including his connections to Western Pennsylvania. A special section of the exhibit is dedicated to Franklin's ties to Western Pennsylvania. In 1755, Franklin obtained nearly 150 wagons from farmers throughout Pennsylvania that were used during General Edward Braddock's failed attempt to capture Fort Duquesne from the French. The incident was later referred to by Franklin in his autobiography as "the wagon affair."
On display: One of the first books Franklin printed, "Religion of Nature Delineated," an original copy of the 1787 U.S. Constitution, a signed copy of Franklin's Bible, rarely displayed personal objects such as books, a chess set, china, furniture and coins, Franklin's inventions, including bifocals, the Franklin stove, the armonica (glass musical instrument), and microscope, as well as a display which highlights pop culture references related to Franklin, featuring everything from Franklin advertising campaigns, mugs, pins, masks, and even bobbleheads. For more information visit the exhibition webpage. You can also view a video of the artifacts courtesy of WDUQ.
I hope to visit the exhibit in person this weekend and provide a detailed photo-essay and synopsis of the experience upon my return.