New Project: Loyalists and Secessionists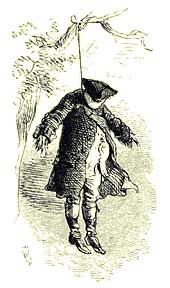 One of the subjects that has caught my attention is the personal experiences of the post-Revolutionary War Loyalist and the post-Civil War Secessionist (in the North). I believe these two demographics to be quite similar in many ways.
My interest centers on what they experienced in their day-to-day lives after their sides surrendered. As a political minority, how did their communities treat them? Were they humiliated or harassed? Did their friends and family turn on them out of embarrassment? Many times these loyalists fled during the conflict only to return home after the war filled with bitterness or regret. I can't imagine the discomfort one would have after supporting a wartime cause that was the opposite of one's neighbors. (Can you say awkward?)
I just started researching letters and memoirs from both wars depicting the firsthand experiences of the "losers" living in enemy territory. If I am able to collect enough material, I hope to author a long-format feature article with hopes of publishing it. From what I understand, many British Loyalists stayed in the United States and even became citizens of the new country. Some of these non-patriots became prominent in their communities and even held public offices. These included Samuel Seabury (the first American Episcopal Bishop) and Tench Coxe (a political economist and delegate for PA). Alexander Hamilton enlisted the services of many ex-loyalists to create a political alliance of moderate Whigs in New York from 1782-1785. The majority of loyalists however, never returned home and settled elsewhere.
Secessionists maintained their citizenship after the South's surrender in 1865, but in many cases they were forced to move away in order to avoid post-war persecution from their victorious counterparts. Our friends Robert Moore and Richard Williams have done an outstanding job of introducing us to Northern Secessionists and Southern Unionists. They have taught us that it's far too easy to assume that everyone was "on board" with a particular cause just because they dwelled in the same region or belonged to the same class. These neglected perspectives give us an accurate depiction of the division that existed on both sides.
Another angle that I may take is a comparison and contrast study of a single Loyalist and Secessionist. It would be interesting if I could get two from the same state or city such as Boston. By examining these two groups under similar circumstances we can see what social attributes evolved and which ones didn't. The questions I hope to answer are numerous. What was the climate like for these cast-outs in the post-war period after the Revolutionary War and the Civil War? What was the same? What was different? Were they able to assimilate? Or did their "treason" mark them forever? Even better, did they regret their decisions? Most importantly, what became of them? Were they able to reconcile their differences or did they remain apart from their peers? Were they killed for their beliefs?
Now that I look at it, this may be a book in the making.