Get "The Angel of Marye's Heights" on DVD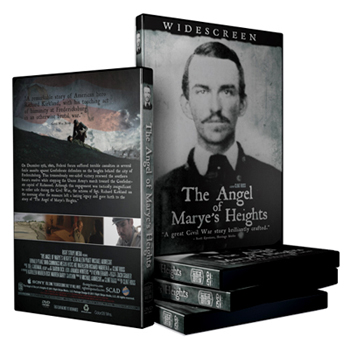 It is with great pleasure that Right Stripe Media announces the immediate availability of "The Angel of Marye's Heights" on DVD. This long-anticipated release commemorates the beginning of the Sesquicentennial (150th) of the American Civil War.
In addition to the 30-minute documentary, 7 additional Bonus Features (1+ hour) are included: Dramatic Mercy-Scene, Richard Warren's "Portrayal of a Hero" Monologue, "Living History" with Kathleen Warren, Cast and Crew Outtakes and Behind the Scenes Slideshow with Will White's 'Fredericksburg 1862' title song, Director and Producer Premiere Comments and Scans of Richard Kirkland Letters.
This Widescreen DVD is now available for purchase online for $12 (+ shipping) at http://www.theangelmovie.com/store.
*Bulk-discounts available. Vendor/media inquiries email info@theangelmovie.com. For more information, visit the film's official website at www.theangelmovie.com. (Please feel free to blog, repost, or share this information. Thank you. RSM LLC)