EDITORIAL: Who's picking up the torch? Nobody.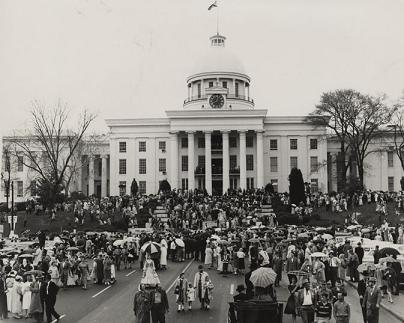 Crowd gathered for the reenactment of Jefferson Davis's inauguration at the Capitol in Montgomery, Alabama, during the Civil War Centennial in 1961. (AL Dept. of Archives and History)
This weekend's Washington Post featured an outstanding Civil War Sesquicentennial section. The 12-page insert coincided with their Civil War at 150 website and featured a nice blend of articles and polls. Over the last few days, I have recognized multiple copies of this insert casually tossed in garbage cans on the train platform and downtown. Why am I so concerned about garbage? Because this is Fredericksburg! As a result, I am slowly coming to terms with the disinterest by the general public and begrudgingly accepting that none of this really matters to anyone but us.
Regardless of how many great programs our local National Parks Service is planning, the audiences at these events will most likely be made up of the same people that would be attending them anyway. In essence, all the Civil War Sesquicentennial is likely to do is give us 'buffs' more things to see. A bad analogy would be extending a special invitation to "Trekees" for a Star Trek Convention. They would still be going otherwise. Another Sesquicentennial lapse will probably take place in the academic realm. Universities across the country are planning a plethora of wonderful ACW programs that will only be frequented by fellow academics. The result is a conference.
Like many of you, I spend a tremendous amount of time leading tours, speaking to groups, and attending ACW-related functions. Most of the time, I am the youngest person in the room and I never-ever see any young people at round tables, museum conferences, or panel chats. Yes, you may see the occasional kid traipsing around a battlefield or participating at a re-enactment with his family, but for the most part, it's middle-aged folks or older (many seniors or retirees), who still care enough to pursue and cultivate an interest in the Civil War. Many of these enthusiasts were around for the Centennial celebrations of the 1960s and grew up with a penchant for the subject that has blossomed. Unfortunately, times have changed and I predict that this will not happen with the
Sesquicentennial.
The problem is that there are no fresh faces stepping up to take the places of the old-timers after they are gone. Our audience is thinning everyday and it's not impossible to see the fading and eventual disappearance of roundtables and historical societies. My generation aka Gen-X, is turning 40 this year and our kids have grown up entirely in the Video Game/Information Age. Civil War memory can't compete with the Wii and iPhones. Let's be honest folks, this was never really 'cool' to outsiders. We do what we do because we love it (even if no one else gives a damn). Heck, most of my friends and peers consider me to be a geek. They will attend the occasional event out of courtesy, but they don't have any interest in this subject matter beyond me. My kids hate history. (There are exceptions to the rule. Richard Warren who plays the part of young Richard Kirkland in our film is an example. You may be able to name a few yourself. They are in the vast minority.)
I thought that technology was the issue. I have discussed the idea of using iPads w/ GPS for tours and incorporating 3D animation to present what is no longer there. There are Segway scooter tours going on here in Fredericksburg and many museums are trying to incorporate kid-friendly activities that allow them to touch the exhibits. Guess what? The iPads w/ GPS are too expensive and older people won't use them. The Segway tours have the same old demographic participating in them, and the local museums are all empty due to the sagging economy. Finally, nobody around here even knows about this. A casual poll during fellowship at my church had three 'Fred-lifers' who knew about the Sesquicentennial. My church is in Spotsylvania folks!
As a historian and lifelong enthusiast, I will be very interested to see if there is a surge of interest in Civil War history from the Sesquicentennial. Like you, I will continue to do what I do regardless, and I look forward to attending and participating in as many commemorations as I can. We hope to release the DVD of our documentary "The Angel of Marye's Heights" in December to recognize the Anniversary of the Battle of Fredericksburg and kick-off our own Pre- Sesquicentennial celebration.
Still, I hold no false aspirations of the Civil War Sesquicentennial sparking any new interest in young people and extending its current life-expectancy past the existing generation of buffs. IMO, it doesn't look good. We care. They don't.
Posted by ny5/pinstripepress at 11:24 AM EST
Updated: Thursday, 11 November 2010 3:00 PM EST
Permalink
|
Share This Post