Great Book. Greater Man.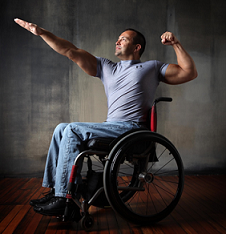 Like many of you, I have been blessed to know some truly amazing people throughout the course of my life. Most of these remarkable individuals have chosen to use their time and talents for the betterment of others. They are generous yet modest, and have an uplifting influence on those lucky enough to be around them.
I am lucky to know a gentleman who personifies all of these principles and more.
Picture the prototypical All-American Alpha-Male, Rock Singer, Football Player, Motorcycle Maniac. Now put him in a wheelchair. For many of us, a productive and fulfilling life would stop there. Not so for this guy. He returned to the stage and became an athlete of epic proportions. He's also a helluva guy and his positive attitude and motivation rivals that of most people I know, including me.
Even his name rings of strength and fortitude and I would bet the farm that his life was unlike that of anyone you have ever met. His name is Attila Domos and his story is extraordinary. I first met Attila back in 1992, a couple years before we moved to Virginia. We have stayed in touch via Facebook and he recently announced the release his first autobiographical book titled "Because You Shouldn't be Afraid to Chase Your Dreams." The synopsis follows:
Never one to back down in the face of adversity, the name Attila Domos is synonymous with the word "winner." In the fall of 1993, Domos suffered a falling accident that left him paralyzed at the waist on the same night he and his former rock n' roll band Big Band Wolf signed a recording contract, but he has never allowed his injury to slow him down. An accomplished musician, athlete, writer and entrepreneur, Domos seems to have his hand in a little bit of everything these days. Go ahead and try to tell him he can't succeed. That just fuels his competitive fire even more and he will prove you wrong every time. Domos' steely determination and courage allow him to constantly push himself and his body to the limit in everything he attempts. He has completed numerous self-challenges in an effort to raise money for spinal cord research, including his infamous "Attila vs. the Mountain" hill climb in Pittsburgh. Most recently, he won the 2010 Pittsburgh Marathon's handcycling division by more than 11 minutes.
Domos' autobiography entitled, "Because You Shouldn't be Afraid to Chase Your Dreams" touches on his life before, during and after his paralyzing accident. Some events include his childhood as a Hungarian, living in Romania under the ruthless dictator Nicolai Ceausescu, and later his life in a refugee camp. He takes the readers behind the walls of the Vienna Boys Choir, as he became a member of the world famous choir at the age of 10. Readers also get an honest opinion of America through the eyes of a 12 year old immigrant and the struggles that come along with getting accepted by the locals. Attila openly talks about his previous sex/drugs/rock 'n roll lifestyle, life from a wheelchair, his marriage and much, much more. "Because You Shouldn't be Afraid to Chase Your Dreams" chronicles the extraordinary circumstances and events which shaped Attila into the inspiring man he is today and takes the reader on one man's improbable journey toward self discovery.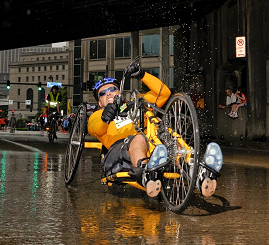 Yeah, that's ONE guy folks. I've always been proud of Attila and I'm even prouder now that he's joined me in the author ranks and is sharing his story with the world. This incredible book is over 300 pages of insights and inspiration, triumph and tragedy, life, love and more. Attila is exploring traditional print publishing avenues, but he currently has an e-Book version of his bio available for purchase on his website at www.attiladomos.com.
I cannot recommend this book enough and will close this post with a quick story… Attila's accident occurred about 6 months before my wife and I were married. On the day of our ceremony, he rolled into the reception hall on a walker and stood up when we entered. Next to kissing my wife, that is my favorite memory from that day.