Reminder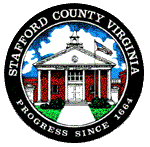 On Thursday (10/21) I will be screening "The Angel of Marye's Heights" at 7:30 pm during the Stafford County Historical Society's monthly meeting. We will be set up on the second floor of the Stafford County Administration Center in Conference Rooms A,B,C. Following the film, I will talk about the Federal army's evacuation of wounded back across the river into Stafford. Admission is free and the event is open to the public. The Administration Center is located at 1300 Courthouse Road.
UPDATE: Last night's screening for the Stafford County Historical Society was outstanding. We had a capacity-filled room at the Stafford Administration Center and the audience provided me with some excellent questions. I had the opportunity to spend time with some of my favorite local historians including Al and Jane Conner and Becky Guy. Following my presentation I was presented with a wonderful handcrafted glass ornament of Chatham (my favorite local site). The SCHS is doing some amazing things for the community by establishing new historical sites in Stafford County and bringing some long-overdue recognition to the region. For more info, visit their website at http://www.staffordcountyhistoricalsociety.org/.
Next up for me is a return to the Gray Ghost Winery for their Civil War Authors Day (Information Here). This is another favorite event of mine. I'll be signing all 5 of my books and have some CDs for sale as well. This event is on Saturday, November 13th, from 11-5 with author talks going on throughout the day. At 3:00, I will be speaking about the Confederate soldier and reading letters from my book Campfires at the Crossroads. Admission is FREE and the line-up of authors is tremendous. After that we have 2 film screenings at Spotsylvania Presbyterian Church, the BIG opening in Pittsburgh, and we have also been invited to hold a special panel discussion and screening at Germanna Community College. Stay tuned for details.