Recruiters and Racists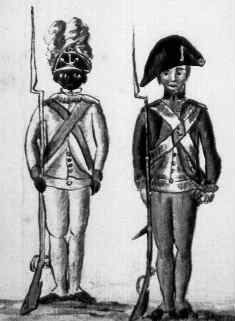 Yesterday I finished a 3,000 word article on the Black Loyalists of Nova Scotia. This feature is slated to be the cover story for the Jan/Feb 2011 issue of Patriots of the American Revolution. I really enjoyed writing this piece and could see myself publishing something longer on this far too neglected topic. What I find striking was the stark contrast in how the Continental Army and British Army looked at African troops. Gen. George Washington banned the enlistment of free and slave Blacks while the British government literally recruited them. Without giving away too much of my story, I would like to share two declarations that are quoted in my article. The first quote is from Royal Governor (VA) Lord Dunmore and clearly shows how the British were able to look past their prejudices in order to reap the benefits of enlisting Black troops. The second shows the Colony's response to Dunmore's decree which may have furthered England's efforts.
Lord Dunmore's Proclamation, November 1775:
...I do require every Person capable of bearing Arms, to resort to His MAJESTY'S STANDARD, or be looked upon as Traitors to His MAJESTY'S Crown and Government, and thereby become liable to the Penalty the Law inflicts upon such Offenses; such as forfeiture of Life, confiscation of Lands, &. &. And I do hereby further declare all indented Servants, Negroes, or others, (appertaining to Rebels,) free that are able and willing to bear Arms, they joining His MAJESTY'S Troops as soon as may be, for the more speedily reducing this Colony to a proper Sense of their Duty, to His MAJESTY'S Crown and Dignity.---
Representatives of the People of the Colony and Dominion of Virginia counter-proclamation, December 1775:
WHEREAS lord Dunmore, by his proclamation, dated on board the ship William, off Norfolk, the 7th day of November 1775, hath offered freedom to such able-bodied slaves as are willing to join him, and take up arms, against the good people of this colony, giving thereby encouragement to a general insurrection, which may induce a necessity of inflicting the severest punishments upon those unhappy people, already deluded by his base and insidious arts; and whereas, by an act of the General Assembly now in force in this colony, it is enacted, that all negro or other slaves, conspiring to rebel or make insurrection, shall suffer death, and be excluded all benefit of clergy : We think it proper to declare, that all slaves who have been, or shall be seduced, by his lordship's proclamation, or other arts, to desert their masters' service, and take up arms against the inhabitants of this colony, shall be liable to such punishment as shall hereafter be directed by the General Convention. And to that end all such, who have taken this unlawful and wicked step, may return in safety to their duty, and escape the punishment due to their crimes, we hereby promise pardon to them, they surrendering themselves to Col. William Woodford, or any other commander of our troops, and not appearing in arms after the publication hereof. And we do farther earnestly recommend it to all humane and benevolent persons in this colony to explain and make known this our offer of mercy to those unfortunate people.
Posted by ny5/pinstripepress at 10:11 AM EDT
Updated: Wednesday, 15 September 2010 10:25 AM EDT
Permalink
|
Share This Post