A night to remember
UPDATE 7/30: A recap of the premiere is now posted over on the movie's website. Video of the evening's speeches and audience reactions to come.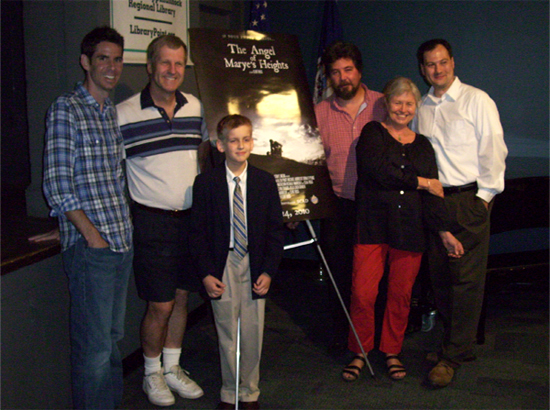 Above: Attending cast (left to right), Clint Ross, Donald Pfanz, Richard Warren II,
John Cummings, Megan Hicks, Michael Aubrecht
Last night's opening here in Fredericksburg could not have gone better and I am still trying to take it all in. We will be adding an entirely new "Premiere" section to the film's website at www.theangelmovie.com which will feature video, photos and commentary from the event. Until then, here's a quick update…
After spending all morning configuring the theater, syncing the AV systems with our computers, setting up the posters, exhibit tables and lights, our team was joined by local exhibitors, preservationists and re-enactors who all added both a purpose and character to the evening's festivities. As producer, I was very anxious about the kind of crowd that we would get. In all honesty, I thought that we might fill the seats. I never expected what was to come.
The doors opened at 6:00 and within 15 minutes the theater was at max-capacity and then some. Every seat and standing area was filled and they were forced to close the doors. As a result, we made the decision to hold a second showing later in the evening.
Following the first 30-minute screening and speeches by Clint and me, we were taped for broadcast by the good folks at History Scene and interviewed by Civil War News. We had a roving cameraman and photographer shoot the party crowd and even taped our own spots for video. The estimated audience count was approx. 200 at the first showing and the second was also successful (w/ a much smaller crowd).
Our film received rave reviews by everyone in attendance from NPS staff to non-history buffs. The donors contributing to the DVD portion of this project were very generous and we were able to shine a spotlight on several other causes including the National Civil War Life Foundation, Friends of the Wilderness Battlefields, the Friends of the Fredericksburg Area Battlefields, the Civil War Preservation Trust and local tourism promoters.
It was an exhausting and exhilarating experience and we are just getting started. To those who were turned away at the door after we met capacity, I am very sorry. The film will be running at the Civil War Life Museum daily starting in the next week or so. Believe it or not, this is just the beginning. We have some big screenings coming up along with lots of press.
Clint and I could not be more thankful. Stay tuned.