It's for everyone.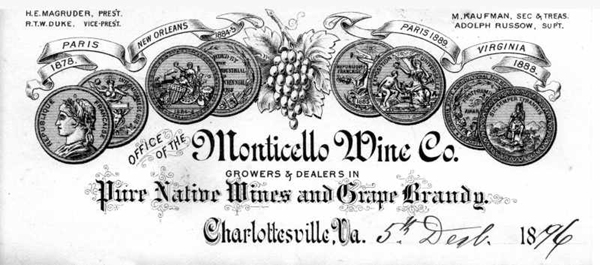 ABOVE: An 1896 logo label for the Monticello Wine Company
(Source: Albemarle Charlottesville Historical Society).
Although I am far from a connoisseur, I do enjoy my cocktail hour and on occasion, a good glass of wine. I prefer white over red, but am open to suggestions. My parents are wine enthusiasts and they have gifted me with a lovely bottle on occasion from their various taste-tours. Every two years I spend a wonderful weekend at Gray Ghost Vineyards for their Civil War Authors Day and this year I will be doing both a signing and vignette on Saturday, November 13, 2010 from 11:00 am to 5:00 pm. In addition to spending time with some great authors like Clint Johnson, I also get complimentary meals and a commemorative "and bottomless" glass.
While studying early American culture, it is not surprising to find that wine is an everyday mention. Clearly colonial society mirrored their native land's passion for the beverage. Wine was essentially the 'bottled water of the day' and everyone drank it regardless of class or station. Thomas Jefferson, a man of many refined tastes, presented his own personal philosophies on determining wine types in a letter penned to Stephen Cathalan on May 26, 1819. He wrote:
"I will explain to you the terms by which we characterise different qualities of wines. They are 1. sweet wines, such as Frontignan & Lunel of France, Pacharetti doux of Spain, Calcavallo of Portugal, le vin du Cap &c. 2. Acid wines, such as the Vins de Graves, du Rhin, de Hocheim &c. 3. dry wines, having not the least either of sweetness or of acidity in them, as Madere sec, Pacharetti sec, vin d'Oporto, &c. and the Ledanon which I call a dry wine also. 4,. silky wines, which are in truth a compound in their taste of the dry wine dashed with a little sweetness, barely sensible to the palate: the silky Madeira which we sometimes get here, is made so by putting a small portion of Malmsey into the dry Madeira. There is another quality of wine which we call rough or astringent, and you also, I believe, call it astringent, which is often found in both the dry & silky wines. There is something of this quality for example in the Ledanon, and a great deal of it in the vin d'Oporto, which is not only dry, but astringent approaching almost to bitterness. Our vocabulary of wines being thus explained, I will observe that the wine of Nice sent me by Mr. Spreafico in 1816. was silky and a little astringent and was the most delicious wine I ever tasted, and the most esteemed here generally. That of 1817. was entirely dry, moderately astringent and a very good wine; about on a footing with Ledanon. That of 1818. last received, has it's usual astringency indeed, but is a little acid, so much so as to destroy it's usual good flavor. Had it come in the summer I should have suspected it's having acquired that acidity by fretting in the hold of the ship, or in our hot warehouses on a summer passage, but it was shipped at Marseilles in October, the true time for shipping delicate wines for this country. I will now say why I go into these details with you. In the first place you are not to conclude that I am become a buveur. My measure is a perfectly sober one of 3. or 4. glasses at dinner, & not a drop at any other time. But as to these 3. or 4. glasses Je suis bien friand. I go however into these details because in the art, by mixing genuine wines, of producing any flavor desired, which Mr. Bergasse possesses so perfectly, I think it probable he has prepared wines of this character also; that is to say of a compound flavor of the rough, dry, and sweet, or rather of the rough and silky; or if he has not, I am sure he can. The Ledanon, for example, which is dry and astringent, with a proper proportion of wine which is sweet and astringent, would resemble the wine of Bellet sent me in 1816. by Mr. Spreafico. If he has any wines of this quality, I would thank you to add samples of 2. or 3. bottles of each of those he thinks approaches this description nearest. . . . I have labored long and hard to procure the reduction of duties on the lighter wines, which is now effected to a certain degree. I have labored hard also in persuading others to use those wines. Habit yields with difficulty. Perhaps the late diminution of duties may have a good effect. I have added to my list of wines this year 50. bottles of vin muscat blanc de Lunel. I should much prefer a wine which should be sweet and astringent, but I know of none. If you know of any, not too high priced I would thank you to substitute it instead of the Lunel."
Mmm, OK……Thomas Jefferson was beyond brilliant and is obviously one of my favorite subjects, but in reading the above quote all I have to say is "WHAT?" No wonder we plain folks find wine discussions intimidating. It's a drink for God's sake. I shouldn't need a degree in chemistry to pick one!
Now to be fair, Jefferson had a passion for wine (on two continents). Historian John Hailman wrote a book on the subject titled Thomas Jefferson on Wine. In it he depicts a man who had a superior knowledge of wine quality and production. The book concludes with an overview of the current restoration of the vineyards at Monticello and the new Monticello Wine Trail and its numerous world-class Virginia wineries. This reinforces the notion that wine really mattered to Monticello's master and was his drink of choice.
In a letter to M. de Neuville in 1818 Jefferson did express a penchant for responsible drinking. He wrote, "I rejoice, as a moralist, at the prospect of a reduction of the duties of wine, by our national legislature….No nation is drunken where wine is cheap; and none sober, where the dearness of wine substitutes ardent spirits as the common beverage…"
Most people aren't aware that one of the most expensive wines ever bought was the 1787 Chateau Lafite which was sold at Christie's London in December, 1985 for £105,000 (at that time equivalent of US $156,000). This bottle is believed to be from the cellar of Thomas Jefferson as it had the "Th.J" initials etched into the glass. It became known as "The Billionaire's Vinegar." Today you can purchase a variety of reasonably-priced wines at Monticello that are produced from the same soil that their owner toiled.
All that said, Mr. Jefferson's remarks echo the language of superiority and elitist mentality that exists in wine culture today. Many people, me included, have no clue of what constitutes a good wine. Therefore we don't visit wineries because we are embarrassed of what to say. My cousin, a very successful attorney, collects rare wines and looks at them like an investment. I can't even determine what to serve with pasta. Rum and Coke is my drink of choice because it has two parts. You can't screw that up.
Fortunately, a childhood friend of mine who is a budding wine aficionado (claiming to be a novice) recently launched a wonderful blog titled Wine Wired: Resource for the every day wine lover. His name is Dennis Fraley and his vision for the language of wine enjoyment is both refreshing and frankly, much needed. Wine Wired features practical descriptions of wines, info on grapes and vineyards, an excellent section on pairing wine with food, and reader comments that give the site a real sense of community.
According to the About Us, Dennis explains how he felt the need to make a site that catered to everyone.
"The more I talked to people and the more I researched, I found that this whole world of wine was complicated and pretentious. What a shame to have something so amazing and keep it "hidden" and "exclusive" with special vocabulary and complicated themes. Actually, the first time I went to a true wine event with a tasting and discussion forums, I felt like someone forgot to show me the secret handshake. This site was created to do a number of things. It allows an outlet for this wine lover to write about experiences and knowledge gained in the world of wine. This site is also designed to instill in fellow wine drinkers that wine should be fun and simple, not snobby or exclusive. Wine is for everyone."
Bravo my friend. Maybe now I can understand what the hell my friends are talking about and find something to pair with my wife's outstanding chicken. I toast you.