Honoring Lee at the Capitol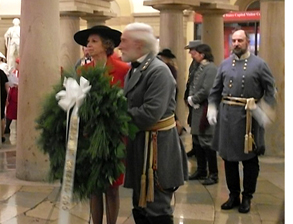 Last weekend some good friends of mine from Lee's Lieutenants participated in a very special ceremony at the U.S. Capitol commemorating Robert E. Lee's birthday. Al Stone portrayed the guest of honor and members of his staff accompanied him. The observance was organized by the United Daughters of the Confederacy (District of Columbia Division) and featured a salute to the CSA flag, the singing of "Dixie," a wreath placement at the statue of Gen. Lee, and a guest speaker.
Of course there were some folks who took offense, but I applaud the conviction of the organizers as well as the government officials who authorized this event. One article stated that Speaker of the House of Representatives Nancy Pelosi was the one who OK'd it, yet another piece said that the UDC had been doing this since 1909.
I find it incredibly offensive that people continue to argue against any commemoration of this sort in the same week as Martin Luther King Day. In Virginia, Lee-Jackson Day is now held on the Friday before MLK Day and the fact that Lee and King's birthdays are a mere 4 days apart is the cause for the "crossover." It is NOT what one poorly-informed critic called "an annual event that normally attracts a number of white supremacists and neo-Nazis, meant to slight the memory of Dr. King." On the other side of extremism, I have read people complain about honoring our greatest civil rights leader and refer to him as "a domestic terrorist and an architect of insurrection." These types of ignorant assertions are ridiculous and soley meant to instigate.
I firmly believe that BOTH of these tremendous individuals deserve our gratitude and acknowledgement - and what better sign of equality than to celebrate them equally? If either of these great men were around today, they would frown upon these blanket criticisms and tell us all to get along.