Official website and preview launched
It is with a tremendous sense of pride that I can now present the official movie website of "The Angel of Marye's Heights" and a 6-minute rough-cut preview. (Due to copyright issues, this sample uses a temporary narration in place of our professional actor's voiceover.) Stay tuned for upcoming press coverage and find out how you can play a pivotal role in the final production of this film.
UPDATE: Within 12 hours of releasing the website, we have already been contacted by producers at The 700 Club who are interested in discussing a segment on the film. We also have a tentative invitation for a Q&A/screening at a major university in addition to the big premiere opening here in Fredericksburg. This project has certainly been blessed and we are grateful for everyone's support.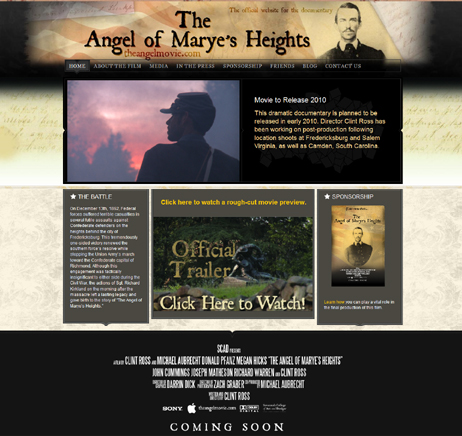 Posted by ny5/pinstripepress at 10:39 PM EST
Updated: Wednesday, 23 December 2009 9:57 PM EST
Permalink
|
Share This Post