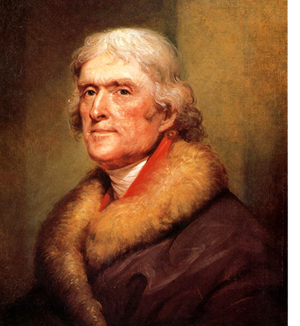 "Reflection,...with information, is all which our countrymen need..." - Thomas Jefferson, 1798
The purpose of this blog is to share essays, insights, and personal thoughts on the life of Thomas Jefferson. Truly an enlightened man, Jefferson remains one of the most celebrated and debated politicians in the history of our nation. Some experts have even gone as far as to state that he was the most 'civilized' citizen ever to come from the Revolution era.
The roles of rebel and politician however, were only two of his many talents. He was also a brilliant statesman, inventor, architect, philosopher, lawyer, author, agriculturalist, farmer, scientist, surveyor, educator, horseback rider, violinist, chess master, correspondent, traveler, and diarist. He is directly credited with helping to create an infinitely prosperous nation that is rich in individual potential, liberty, and freedom.
He was also an extremely complex man whose legacy has touched many different Americans in many different ways. This is the inspiration behind "The Jefferson Project." Historians and writers, black and white, amateur and professional will be using this forum to share their own personal thoughts and interpretations on Thomas Jefferson. There is an open invitation to participate and we simply ask that contributors formulate a well written piece that fits the overall theme of this venture. Any aspect of Thomas Jefferson's life is open to examination.
If you are interested in contributing to "The Jefferson Project," please email the site administrator, Michael Aubrecht at ma@pinstripepress.net. Please note: We do reserve the right to refuse materials that are poorly authored or are not rooted in credible research. All material posted on this blog remains the copyrighted property of the contributor. Please do not quote without permission.
Current contributors:
Liane DiStefano
Christopher Williams
Michael Aubrecht
Dr. Linda Sundquist-Nassie
NEW (sister-blog):
The "Quotable" Jefferson