Washington's "Christmas Crossing" corrected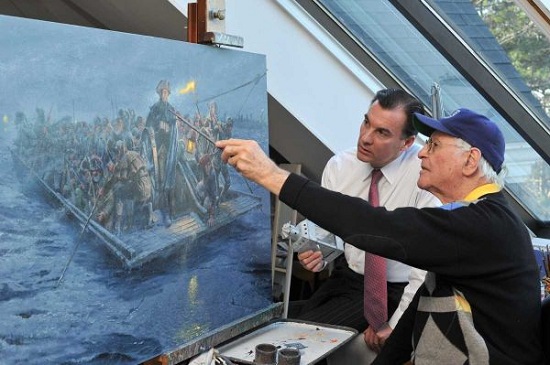 Tom Suozzi talks with artist Mort Kunstler in his studio about his version
of Washington Crossing the Delaware. (Photo: Newsday/Audrey C. Tiernan)
UPDATE: Here is a television segment featuring Mort's painting on ABC World News.
After months of research, sketching and painting at the easel, our friend Mort Künstler has completed his version of George Washington's crossing of the Delaware River, a project intended to retain the drama of the iconic patriotic image painted in 1851 by Emanuel Leutze while correcting its myriad of mistakes. As one of his most challenging depictions, Mort himself has said that this will be the piece that he is remembered for.
Historians note Leutze's famous 1851 painting "Washington Crossing the Delaware," owned by the Metropolitan Museum of Art, contains numerous historical errors:
1. The original painting depicts the trip in daylight rather than at night, and in clear weather; the Dec. 1776, crossing took place in a nor'easter with heavy snow and sleet.
2. The Delaware River is not nearly as wide as depicted. At the crossing point, it's only 800 feet from Pennsylvania to New Jersey.
3. Leutze painted the river as being clogged with mini-icebergs rather than covered in broken-up sheet ice.
4. Standing in a small boat as the one depicted in a storm, Washington would have fallen overboard or capsized the craft. Longer Durham cargo vessels (one is shown in the background of the Künstler painting) carried soldiers while a flat-top ferry transported horses, cannons and probably Washington, historians say.
5. The most notable error is the inclusion of the American flag as the "Stars and Stripes" design was not adopted until 1777.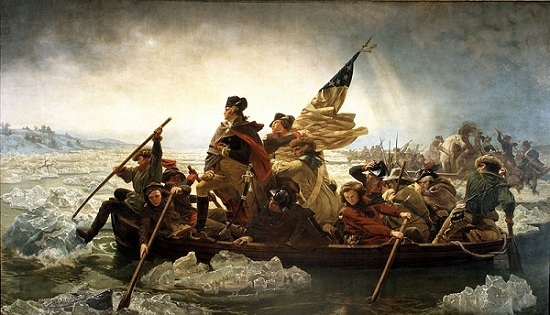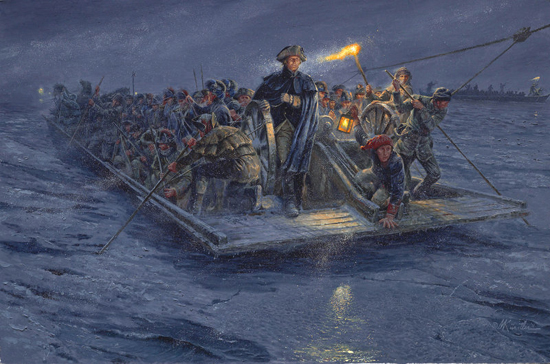 Posted by ny5/pinstripepress at 8:30 AM EST
Updated: Wednesday, 28 December 2011 8:22 AM EST
Permalink
|
Share This Post