Can historians have heroes?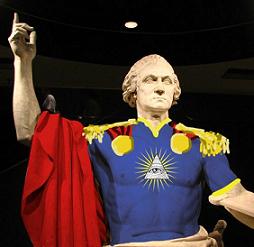 Today I want to address my last post and the discussions I have been having that forced me to think long and hard about the concept of heroes and historical memory. Richard Williams and I have been debating the issue and he will be posting his own thoughts over on the Old Virginia Blog in the coming day(s).
The best way that I can explain my take is to correlate it to the modern world of sports. When we are kids, we look up to our athletes and try to emulate them on the field. We hang their posters on our wall, wear their jerseys, and collect their memorabilia. Then we grow up. As we mature, we realize that these guys were just athletes. Sometimes they turn out to be jerks, or steroid users, or not half as good as we remember them. More often than not they don't live up to our expectations. As adults, we no longer place these "superstars" on pedestals. We still love sports and we may fondly recall our favorite players from our childhood. The difference is that we no longer look at them as heroes. We look at them as people. That epiphany is exactly what many historians experience.
If you think about it, the sports example is actually better because those are people we have first-hand knowledge of. The only thing we know about these 18th and 19th century historical figures (at a personal level) is what they and/or others tell us. None of our interpretations can be based on our own experience. Therefore it's even stranger to have a historical figure be a 'hero' because we can only base our impressions on what we 'think' is the truth. We don't know these people. I never met George Washington or Stonewall Jackson, so what am I basing my affections for them on? It's based entirely on what they and/or others have presented to me. Now let's ask ourselves whose version of history is more credible: The historian who considered their subject to be a hero and allowed it to shape their interpretations, or the historian who does not have a personal bias and simply presented the facts that their research revealed to them?
Over the last few years I feel as if I've matured from the first example to the latter. I still find these folks equally fascinating. I just look at them differently. This week I have been watching Ken Burn's "The Civil War" on PBS. This is hands down, the best documentary series ever made. Burns' genius is in his presentation: the combination of photos, the reading of letters, thoughtful commentary, and a fact-driven narrative. At no time does he dramatize, inflate, or manipulate the history. He doesn't depict Grant, or Lee, or Lincoln in their usual "mythical" way. He simply presents their images and words, as they were, allowing the audience to make their own interpretations.
Image source: XORIENTE
---
NEXT POST (maybe): Barring a Government shutdown (which looks more and more likely as I type this), I will be making a trip up the road to the National Mall to photograph the presidential monuments. My plan is to blog a little about their history, but more importantly how they are interpreted today. Of course the Washington and Jefferson monuments will be the focus of the piece. IF this weekend is shot to hell by the politicians, I, along with 800,000 other Americans will be on an involuntary furlough. You can expect plenty of posts then as I'll have buckets of free time.