Franklin on Farting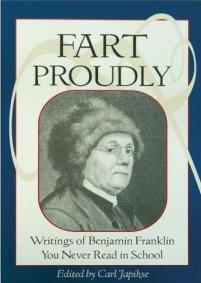 Let me begin by saying that this post is absolutely 100% true. I read about it last year while studying a biography of Benjamin Franklin and I have wanted to write about it for quite some time. At first glance this story may sound like the lead-in to a punch line, but I can assure you that there is no joke. Those of you that are familiar with the REAL Ben Franklin will no doubt agree that he was quite capable of doing this.
Among his many contributions to society, Ben Franklin was also a scientist. While living as an ambassador in France Franklin grew disgusted with what he considered to be an elitist's-approach to science. He believed that too many academic societies were growing increasingly pretentious and far too concerned with the impractical. The Royal Academy of Brussels was an exceptionally arrogant institution in Franklin's opinion and became the brunt of one of his most notorious essays.
In 1781 Franklin penned "A Letter To A Royal Academy," which was later more appropriately titled "To the Royal Academy of Farting." This brilliantly sarcastic letter was in direct response to a call for scientific-papers from the academy. Franklin's essay called for research into the far-too neglected subject of improving the odor of human flatulence. The original letter was sent to a Welsh philosopher named Richard Price who had an ongoing correspondence with the good doctor. The introduction stated:
I have perused your late mathematical Prize Question, proposed in lieu of one in Natural Philosophy, for the ensuing year...Permit me then humbly to propose one of that sort for your consideration, and through you, if you approve it, for the serious Enquiry of learned Physicians, Chemists, &c. of this enlightened Age. It is universally well known, That in digesting our common Food, there is created or produced in the Bowels of human Creatures, a great Quantity of Wind. That the permitting this Air to escape and mix with the Atmosphere, is usually offensive to the Company, from the fetid Smell that accompanies it. That all well-bred People therefore, to avoid giving such Offence, forcibly restrain the Efforts of Nature to discharge that Wind.
Franklin's theory followed in which he discussed how certain foods could affect the severity of flatulence odor. He then called for sanctioned scientific testing to take place while challenging scientists to work toward creating a drug, "[w]holesome and not disagreeable," which can be mixed with what he called "common Food or Sauces" to render flatulence as agreeable as perfume. He closed the piece by saying that compared to the practical applications of his proposal, all other sciences were "scarcely worth a FART-HING."
A reprint of this letter was privately published by Franklin and distributed exclusively among his friends. After his death the letter was excluded from any future publishing until Fart Proudly: Writings of Benjamin Franklin You Never Read in School, a collection of Franklin's humorous and satirical writings was published in 1990.